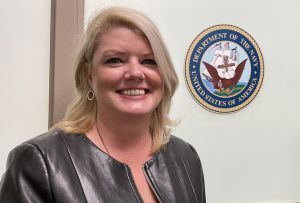 Published: 01-12-2022
Troy Moon, Pensacola State College
Tanya Brashers was a good student in high school back in Yazoo City, Mississippi. But she really didn't see a path to college.
"I came from a farming family in Yazoo City,'' Brashers said. "There weren't really a lot of resources to help me get into college. Financially I couldn't do it and didn't really have anyone to guide me as far as college."
Besides farming, her family was steeped in military service and tradition. At age 19, Brashers entered the U.S. Navy knowing G.I. Bill benefits could help her realize her college dream once she completed service.
Today, Brasher is the coordinator of the Pensacola State College Veterans Student Success Center, a new program funded by a recently obtained grant from the U.S. Department of Education.
While PSC offers two federally-funded TRIO programs to assist certain veteran demographics, the Veterans Student Success Center will assist all veterans.
Brashers' office will help student-veterans with advising and resources as well as perform outreach to veterans in the community to try to recruit them to PSC.
"We want veterans to come to PSC,'' said Brasher, who was a Navy corpsman during her five years of military service, including duty at the Naval Hospital Pensacola. "We want to bridge gaps and identify hurdles that veterans are facing. I'm going to identify where those gaps are and what we can do to bridge them. Some veterans start college and then stop. It will be my job to try to identify why. If they're not in college but want to, we want to do what we can to assist them."
Brashers' commitment to veterans is nothing new. After the Navy, she earned an Associate of Arts degree from Truckee Meadows Community College in Nevada and a Bachelor of Social Work from the University of Arkansas at Little Rock. While in Arkansas, she served as the chair for Student Veterans for the Arkansas Veterans Coalition. She is also a graduate student at the University of Arkansas Clinton School of Public Service, where she is working toward – and close to completing ─ her Executive Master of Public Service degree.
Before joining PSC on Jan. 10, Brashers' most recently worked as a social worker and case manager for Opening Doors Northwest Florida Inc., a nonprofit organization that assists the homeless.
"She's amazing,'' said Debbie Douma, PSC Dean of Grants and Federal Programs. "She was a student-veteran who was very active in advocating for veterans. She has a background in social work, which is part of the job and just brings a lot of skills and qualities to the college."
Brashers said the military has always been part of her life.
"I was third-generation Navy,'' said Brashers, the mother of two adult sons, one who is also in the Navy. "It was always the honorable thing to do in my family."
Besides the Veterans Student Success Center, PSC also offers two TRIO programs that assist veterans – Veterans Upward Bound and Veterans Student Support Services. Douma said there are between 500 to 600 veterans attending the College at any one time.
Veterans Upwards Bound provides veterans with college prep classes and/or GED courses at no cost. The program is open to veterans who are first-generation college students who are considered low-income according to federal guidelines.
Veterans Student Support Services is also aimed at first-generation college students who are low income and military veterans. The program offers academic advising, career counseling, financial aid counseling and more.
Each of the two programs is, by grant design, limited to each serve less than 150 student-veterans, while there is no limit to the number of student-veterans who can receive help at the Veterans Student Success Center.
For more details, contact Brashers at 850-484-2005 or tbrashers@pensacolastate.edu.