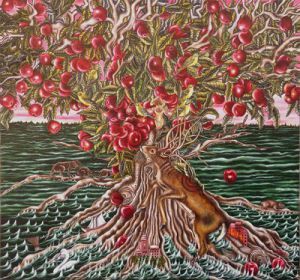 Published: 09-05-2017
The public is invited to meet the 2017 Switzer Distinguished Artist, Jacqueline Bishop, at a reception 6-8 p.m., Thursday, Sept. 14, at the Anna Lamar Switzer Center, Building 15, on the Pensacola campus. Bishop will present an artist talk at 7 p.m.
Bishop's intricate renderings of flora and fauna are featured at the Switzer Gallery now through Oct. 6. All Switzer Gallery events are free and open to the public 8 a.m. to 9 p.m. Monday through Thursday and 8 a.m. to 4 p.m. Friday. Tours are available with prior arrangements.
Bishop's exhibition, "A Drop of Water, a Grain of Sand," showcases her work from 1986 to 2016 and reflects the absolute beauty and mystery of the natural world. Her paintings, works on paper, and installation are influenced by years of traveling through Latin American forests, experiencing Hurricane Katrina, and documenting the BP Oil Spill.
The Switzer Distinguished Artist Series brings students and master artists together for unparalleled educational experiences through lectures, workshops and portfolio reviews.
Made possible by a gift from the Lamar, Reilly and Switzer families, the series also provides opportunities for community members to engage with the best of today's contemporary artists.
For more information, call PSC Gallery Director Vivian Spencer at 850-484-2550.