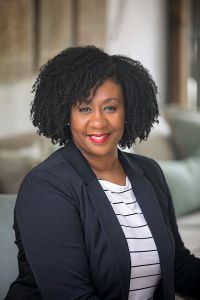 Published: 08-08-2017
Dr. Monique Collins' life mission is to ensure Pensacola State College students are successful.
She joined the Pensacola State family in 2001 as an academic advisor. Dr. Collins is now the college's Assistant Dean of Student Services and supervises student registration and retention.
"The ultimate reward in my job is seeing students and their families at commencement. I have helped many of them personally over the years – so I have watched them grow. So, to see them basking in the excitement of graduation is always the ultimate reward for me," she said.
An advocate of state and community colleges, Dr. Collins said the institutions are life-changing.
"As an open access institution, we are truly here to serve those students and I am honored to serve them," she said. "I truly believe that Pensacola State is the best starting place for our community …committed faculty and staff, smaller classroom sizes and low cost of instruction are just a few reasons why."
Collins earned her bachelor's degree in business administration and master's in counseling and psychology from Troy University. In 2007, she was conferred an Ed. D. in Curriculum and Instruction, from the University of West Florida.
A Leadership Pensacola graduate, Collins has served on the Pensacola State College's President's Leadership Institute and is a graduate of the 2017 Chancellor's Leadership Seminar.
In April, Dr. Collins presented "Huddle Up!: Fostering an MVP Mentality in First-Time-in-College, at-risk Students," highlighting successful retention strategies for at-risk students, at the Association of Florida Colleges' Region 1 Conference.
She also serves on the Executive Committee for the Florida Council of Student Affairs and is a contributing member of Pensacola State College's SACS Quality Enhancement Plan Team and Achieving the Dream initiatives.
Dr. Collins has two sons – Devin and Seth – and is a member of Alpha Kappa Alpha Sorority Inc.