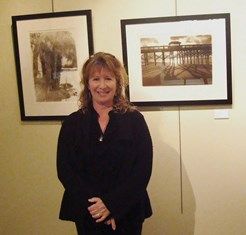 Published: 08-30-2018
The most recent works of fine arts photographer, Mary Anne Mitchell, are on exhibit in Pensacola State's Anna Lamar Switzer Center for Visual Arts through Friday, Oct. 5.
Using wet plate collodion, Mitchell's "Meet Me In my Dreams," photos depict situations, often mysterious, which evoke her Southern roots.
A finalist in the 8th Edition of the Julia Margaret Cameron Awards, Mitchell has been invited to exhibit some of this series in the 4th Biennial of Photography to be held in Berlin. Her work has been shown in solo and group exhibitions across the country and can be found in private and corporate collections across the United States, Dubai, Taiwan and Canada. She lives in Atlanta.
The Anna Lamar Switzer Center for Visual Arts gallery hours are 8 a.m.-9 p.m. Monday through Thursday and 8 a.m.-4 p.m. Friday. Tours are available with prior arrangements. Admission is free and open to the public. For more information, call 850-484-2550.