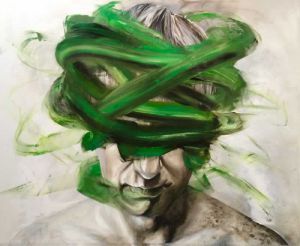 Published: 09-30-2016
Come stroll the gallery and listen to artist Craig Hawkins talk about his work currently on display at the Anna Lamar Switzer Center for Visual Arts, Building 15, at Pensacola State College, 1000 College Blvd.
The public is welcome to the free Gallery Talks at 6 p.m., Thursday, Oct. 6 and 9 a.m., Friday, Oct. 7, the last day that Hawkins' ethereal, thought-provoking works are exhibited at the Switzer Center.
Hawkins' paintings often cause viewers to ponder things like "Who am I?" and "Why am I here?" His works pay homage to the beauty and brokenness of humanity, engaging the vivid imagery of Scripture and a rich and deeply spiritual faith. He creates distinctive works through transcendental compositions, high contrast narratives, and expressive mark-making.
Besides working as a professional studio artist since 2001, Hawkins also has been an associate professor of art at Valdosta State University since 2011. His work is represented at Mason Fine Art gallery in Atlanta and at Anne Neilson Fine Art gallery in Charlotte, North Carolina.
The Switzer Gallery is free and is open 8 a.m. to 9 p.m., Monday through Thursday and 8 a.m. to 4 p.m., Friday. Tours are available with prior arrangements.
For more information, call PSC Gallery Director Vivian Spencer at 850-484-2550.