Published: 10-20-2022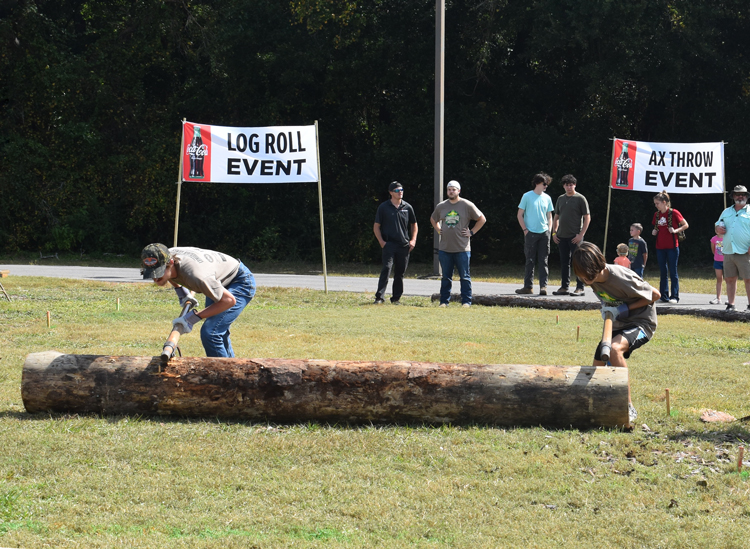 Beth and Will Stern just moved to Santa Rosa County from Wisconsin earlier this year.
"We heard about the Lumberjack Festival here and had to come out to see,'' Beth Stern said as she and her husband walked the grounds of the Pensacola State College Milton campus on Saturday, Oct. 8, for the 33rd Annual Lumberjack Festival and Northwest Florida Forestry Conclave. "Where we're from is real lumberjack territory."
Hey, the Milton campus is real lumberjack territory – once a year at least.
The Lumberjack Festival featured dozens of competitors in events ranging from Axe Throw and Bow Sawing to Pole Toss and Compass and Pacing. The morning started off with the Second Annual Lumberjack Open Cross-Country Tournament, which featured boys and girls high school competition and a women's college competition where the PSC cross-country team finished first and had four of the top five finishers, including the top three spots.
"Our team did really well,'' said PSC Cross-County Coach Julie Burger. "I'm really proud of all of them."
The Lumberjack Festival events were held near the track at the Milton campus. There also was a children's area with games and face painting, arts and craft vendors and food trucks.
The second annual Lumberjack Launch disc golf tournament took place at the Milton campus on Friday. The tournament was sponsored by Flight Factory.
Lumberjack Festival competitions winners were:
Overall Grand Champion Men: Kyle Shertzer
Overall Grand Champion Women: Leslie Bynum
Overall Grand Champion High School: Gavin Anthony and Jack Finley
Overall High School: Navarre High School
Men
Women
HS
Compass & Pacing
First
Evan McClellan
First
Barbra Shertzer
First
Sailor Reynolds
Second
Thomas Tyler
Second
Marina Shertzer
Sec
Alexa Rayon
Third
James Hill
Third
Jaylyn Smith
Third
Dalan Bunn
Axe Throw
First
Chris Sawyer and James Fox
First
Leslie Bynum
First
Gavin Anthony
Second
David Shertzer
Second
Jaylyn Smith
Sec
Joshua Alt
Third
Sarah Iwanowycz
Third
Marina Shertzer
Third
Jack Finley
Log Roll (Open division)
First
James Fox/Natasha Kosciuszko
First
Hanza Elgohaly/Jack Finley
Second
David Suggs/Kevin Stroud
Sec
Alexa Rayon/Donovan Powell
Third
James Hill/Chris Sawyer
Third
Dalan Bunn/Gavin Anthony
Bow Sawing
First
Kevin Stroud/Kyle Shertzer
First
Sarah Iwanowycz
First
Cade Rice
Second
James Fox
Second
Natasha Kosciuszko
Sec
Jack Finley
Third
Thomas Tyler
Third
Marina Shertzer
Third
Adrian Bonila
Grand Caber
First
David Shertzer
Second
Ed Meadows
Third
Anthony Derico
Pole Toss
First
Ronald Bonilla
First
Jaylan Smith & Natasha Kosciuszko
First
Adrian Bonilla
Second
Justin Evans
Second
Alexa Rayon
Sec
Cade Rice
Third
Kyle Shertzer
Third
Leslie Bynum
Third
Jack Finley & Adian Bonilla
Standing Chop
First
Chris Sawyer
First
Natasha Kosciuszko
First
Ian Huesing
Second
Donovan Powell
Second
Leslie Bynum
Sec
Jack Finley
Third
James Fox
Third
Jaylyn Smith
Third
Matthew Bontrager
Cross-Cut
First
Ronald and Adrian Bonilla
First
Hannah Moores & Ivy CrC     Crosby
First
Hanza Elgohaly & Jack Finley
Second
Kyle and David Shertzer
Second
Natasha Kosciuszko & Alexa Rayon
Sec
Cade Rice & Jaylyn Smith
Third
James Fox & Adrian Bonilla
Third
Gavin Anthony & Dalan Bunn
Jack n Jill
First
Jackson Clyde & Hannah Mooers
Sec
Natasha Kosciuszko & James Fox
Third
Kyle Shertzer & Marina Shertzer
Knife Throw
First
David Shertzer
First
Leslie Bynum
First
Gavin Anthony
Second
Kevin Stroud & Justin Evans
Sec
Joshua Alt
Third
Jack Finley
High School Competition:
Compass & Pacing
First
Sailor Reynolds
Second
Alexa Rayon
Third
Dalan Bunn
Axe Throw
First
Gavin Anthony
Second
Joshua Alt
Third
Jack Finley
Log Roll
First
Hanza Elgohaly/Jack Finley
Second
Alexa Rayon/Donovan Powell
Third
Dalan Bunn/Gavin Anthony
Bow Sawing
First
Cade Rice
Second
Jack Finley
Third
Adrian Bonila
Pole Toss
First
Adrian Bonilla
Second
Cade Rice
Third
Jack Finley & Adian Bonilla
Standing Chop
First
Ian Huesing
Second
Jack Finley
Third
Matthew Bontrager
Cross-Cut
First
Hanza Elgohaly & Jack Finley
Second
Cade Rice & Jaylyn Smith
Third
Gavin Anthony & Dalan Bunn
Lumberjack Open Cross Country

College division:

Winner: Pensacola State College

Individual medal winners:

First: Emmalei Miller, PSC

Second: Kaydee Cook, PSC

Third:

Jabria Brothers, PSC

High  School division:

Winner: Crestview High (boys)

Pace High (girls)
Lumberjack Launch Disc Golf Tournament
MPO: David Cash
MA40: Derek Heaton
MA50: Rick Higbee
MA1: Dustin Garner
MA2: Mike Rose
MA3: Michael Bennett
MA4: Brant Corley
FA4: Sarah Stephens