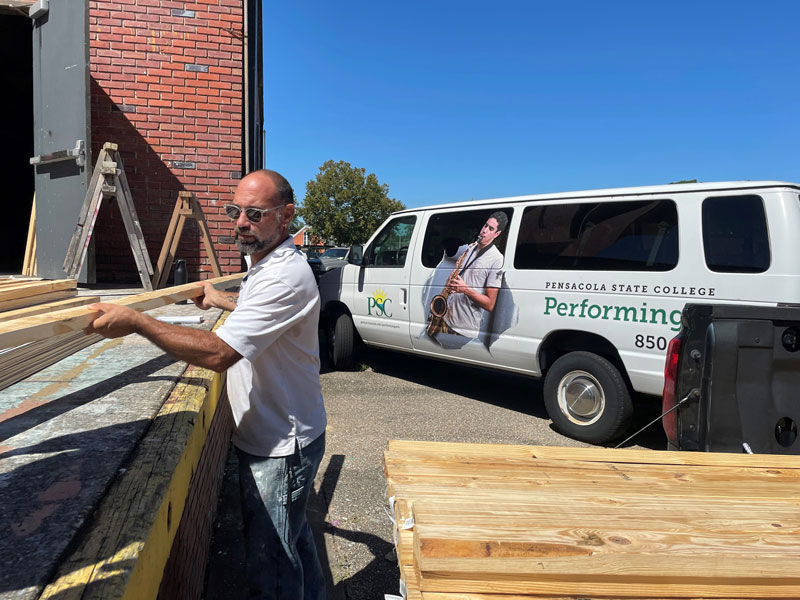 When Pensacola State College's longtime Performing Arts Technical Director Bob Gandrup died just a month before the annual PSC Summer High School Onstage Workshop, the theater department had to mourn the loss of a valued and respected colleague and friend.
Yet, as Gandrup himself knew, the show must go on.
Though grieving, PSC Theatre Director Rodney Whatley still needed to find a person to complete Gandrup's stage design for the late July performance of the Elvis-inspired jukebox musical, "All Shook Up."
Longtime Pensacola theater and performance persona Lance Brannon was brought in and stayed true to Gandrup's design.
Brannon is now the new PSC Performing Arts Technical Director, replacing Gandrup who died on June 13, 2022. Gandrup had worked at PSC for more than 20 years.
"It was a very odd way to get the gig at PSC,'' said Brannon, who most served as production designer/technical director for Ballet Pensacola from 2005 to 2019. "But I'm excited to be here. Everyone in theater in Pensacola comes through here at some point. I'm honored to follow Steve Andrews (technical director preceding Gandrup) and Bob. I hold them both in high regard."
Brannon's first PSC stage design is for the production of Steven Sondheim's musical comedy, "Company,'' set for Oct. 14-16 and Oct. 21-23 in Ashmore Auditorium.
"(Whatley) asked me to do a 'Lance Design,''' he said.
What's a "Lance Design"?
"Big and lots of lights."
Brannon originally was an actor, but, as many in the field know, acting gigs can be hard to come by. He picked up some technical skills and in 1995 Brannon was hired as the Pensacola Saenger Theatre Stage Manager ─ a position he held until 1999.
"It's sort of the actor's story – I was working and getting gigs, then suddenly I wasn't getting hired any longer,'' he said. "So, I switched over to the tech world."
He has also worked as technical director (operations) at the University of West Florida, 1999-2004, and assistant technical director at the Pensacola Little Theater, 2004-2005.
Brannon studied at the Florida School of the Arts and UWF.
"Lance Brannon is a theatrical Renaissance man who brings a great array of skills to his position as technical director,'' Whatley said. "He's a natural leader with a broad and intense knowledge on the craft of theater, and he will bring a wealth of real-job experience to our students to ensure their continued growth as professional performance artists."
If you're interested in attending "Company,'' visit https://performingarts.pensacolastate.edu/ for more information.