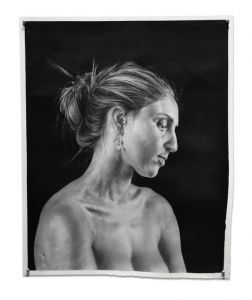 Published: 05-15-2017
From screen prints to sirens, a spectacular exhibition is on display May 15-July 20 at Pensacola State College's Switzer Gallery, Building 15, at the corner of 9th Avenue and Airport Boulevard.
This summer show represents a selection of works by local artists Richard Humphreys and Gregory B. Saunders.
Humphreys' stunning screen prints are hand crafted with individually mixed colors, using only eco-friendly water based inks. In his full-service design and print studio, the Workweek, Humphreys provides clients with original designs, illustrations, and small business branding services.
Among Humphreys' clients are Wilco, Elvis Costello, The National, Tame Impala, Independent news, Pensacola Museum of Art and the University of West Florida.
Saunders' thought-provoking Siren Series consists of large format drawings, paintings and sculptures that place the human senses as "sirens" calling us back in time to rekindle memories. His works have been purchased for public and private collections across the United States and in Japan.
The public is welcome to a reception at 6 p.m. Thursday, June 8. The event features a 7 p.m. presentation by artist Gregory B. Saunders and musician Gary Dale Scott.
The Switzer Gallery is free and summer hours are 8 a.m. to 5 p.m. Monday through Thursday. Tours are available with prior arrangements.
For more information, call PSC Gallery Director Vivian Spencer at 850-484-2550.