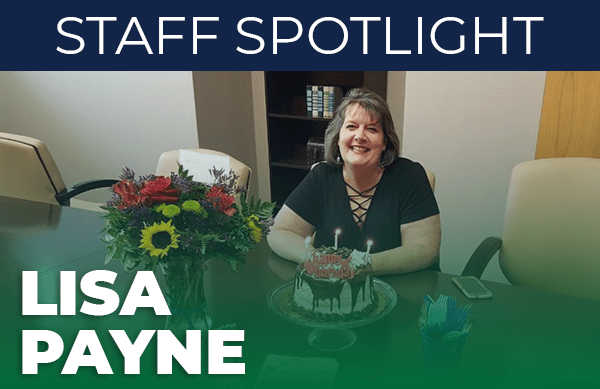 By Troy Moon
Pensacola State College
Lisa Payne admits that sometimes she still slips up and says "PJC" instead of "PSC,'' even though Pensacola Junior College became Pensacola State College in 2010. You can't really blame her.
She has worked at the College for 43 years – and for more than 30 of those years, it was PJC, so it is understandable. And before she came to work at the College as a 19-year-old, she was already a student, earning a career certificate in stenography in 1979.
"I love this College,'' said Payne, Executive Assistant to Dusti Sluder, Dean of Health Sciences. "This is my home. I graduated from the College and thought it would be a great place to work and it was. It still is. I'm still happy coming in to work every day."
Payne retires at the end of May. She is currently PSC's longest-serving employee.
"I'm had amazing supervisors and mentors,'' Payne said. "All of them were really great to work with. I've been working with the health programs since Day 1. I've always felt appreciated and valued here and I just so enjoyed working with the health students on this campus, and students in general."
Her boss and coworkers know losing Payne will be a huge loss to the campus.
"She knows everything,'' said friend and coworker Dawn Lenoir, who is Dean Sluder's administrative assistant. "She has so much knowledge of this College and this campus. Besides, she's just great to work with. I'm going to miss my friend."
Sluder called Payne "the go-to person around here."
"She has 43 years of knowledge," Sluder said. "She'll definitely be missed. She's just so pleasant to work with."
Even as an employee, there were times when Payne was a PSC student as well.
In 1987, she earned an Associate in Science degree in Stenography, graduating with High Honors. In 2000, Payne earned an Associate in Arts degree in General Studies, with Honors.
Payne said at one time, she considered trying to transfer over to the Pensacola campus, but instead remained where she felt comfortable and treasured.
"I feel like we're a big family out here in Warrington,'' she said. "Everyone knows everyone. It's like a family. There's just that closeness."
In fact, there are many former coworkers who have retired that she contacts regularly.
"I've made lifetime friends here,'' she said. "I got to lunch with some of them. We're talking true friendships."
She and her husband, David Payne, plan on traveling after her retirement. David has some health problems and can't travel overseas, but there are so many places in the contiguous United States to see.
"We've taken several trips out West and there is so much to still see out there,'' Payne said. "But we'll probably go to Key West first. I've never been there, and my husband always went there on summer vacation growing up and has wanted to go back."
Payne said she is grateful for her decades at PSC, and, PJC.
"I've seen it change so much,'' she said. "This building we're in is just amazing with all the technology we have. I remember when we didn't even have computers."