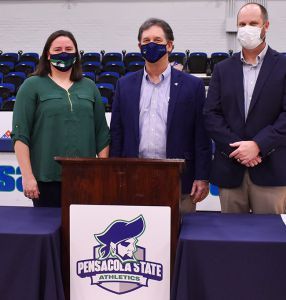 Published: 01-22-2021
Softball coach Angus selected Associate AD
Mary Mabins and Troy Moon, Pensacola State College
Pensacola State baseball coach Bryan Lewallyn and softball coach Lyndsey Angus have been named the College's new athletic director and associate athletic director, respectively.
The announcement was made at a press conference on Jan. 20, in Hartsell Arena. Lewallyn and Angus will assume the responsibilities on Monday, Jan. 25, from Bill Hamilton, who is retiring.
Both coaches said they are honored to be selected for expanded roles at the College.
Pensacola State College President Ed Meadows said Lewallyn and Angus came highly recommended.
"In fact, Coach Hamilton suggested both of them for the positions," he said. "Coach Lewallyn is a former Pensacola State baseball program product and was coached by Bill (Hamilton). He has shown an incredible ability to lead since he returned to us as head baseball coach in 2016."
Meadows also praised the accomplishments of Angus.
"Coach Angus is committed to her players and is extremely knowledgeable about NJCAA compliance and rules. She also is an outstanding leader and administrators, faculty, staff and our student-athletes all look up to her," Meadows said.
Hamilton emphasized that he felt both coaches were excellent choices for the athletic director's post.
"I recommended we split the responsibilities in two and appoint Coaches Lewallyn and Angus into the roles of AD and Associate AD ─ compliance, to take advantage of their strengths and to remove some of the burdens that would fall on just one person," Hamilton explained. "I took that idea to Mr. (Tom) Gilliam (PSC's vice president of administrative services) and Dr. Meadows and it looks like they agreed."
Hamilton's advice to the incoming ADs is "to always put their student-athletes first, do what they can to make it easier on all of the staff members and to do it the right way."
"I am grateful to have the opportunity to serve PSC student-athletes, the athletic department, PSC and the community. I have been blessed with more than I ever deserve. I am very fortunate to get to work with young people, watching them grow and develop into adults and leaders," said Lewallyn, who will oversee the day-to-day operations of the PSC Athletic Department, its budgets, staff organization, facilities, emergency/crisis management and serve as a community liaison.
At the press conference, Lewallyn said he believes that he and Angus will work well together to serve the College, its student-athletes and the community.
"I think this is something that both of us looked at as a challenge," Lewallyn said. "We felt that we could do this together. We're here to enrich and develop our student-athletes in order to prepare them for the future."
Before coming to PSC, Lewallyn was the head coach at the University of South Carolina – Beaufort, where he was named the 2016 Sun Conference Coach of The Year and led the Sand Sharks team to its first regular-season conference title in program history.
In 2012, he was recognized as the Diamond ABCA Regional Coach of The Year for the NAIA as well as the Rawlings NAIA Mid-Atlantic Region Coach of The Year. He compiled 162 wins in his five seasons at the helm of the University of South Carolina – Beaufort ─ making him the winningest coach in the program's brief history. His resume also includes four Sun Conference tournament appearances, three NAIA Opening Round tournament appearances, and an NAIA World Series appearance.
In 2006, Lewallyn began his professional baseball career with the New Orleans Zephyrs AAA team and was a pitching coach for Northwest Florida State College and the Pensacola Pelicans.
A Pensacola native, Lewallyn is a graduate of Pine Forest High School, PSC and the University of Central Florida where he earned a bachelor's degree in business administration.
Angus will be in charge of NJCAA compliance, eligibility, Title IX, Section 16 and most internal and external reports. Both also will remain in their head coaching positions.
"I feel honored and humbled to be given this opportunity to serve the College in this role," she said. "This position ─ associate athletic director ─ has been created to not only work with Bryan, but also cover things dealing with compliance and reports."
Angus added she will depend on her assistant coaches to help with softball.
"I'll receive a lot of increased help and assistance from Caroline Powell, Bevia Robinson, Courtney Heinritz and Jennifer Mckibben."
Angus, a Massachusetts native, joined PSC after spending five seasons as an assistant coach at the University of New Mexico. She also was a member of the University of Kentucky (UK) staff that led the softball team to its first national ranking and second consecutive NCAA Tournament appearance.
A UK softball player, Angus was a four-year letter student-athlete for the Wildcats from 2000-2003. In her freshman season, the Wildcats captured the Southeastern Conference Eastern Division crown. Three times she was an All-SEC selection and an All-Academic Team member on two occasions.
Angus also was an assistant coach at Centenary College in Shreveport, Louisiana, and spent a year as a graduate assistant coach at Valdosta (Georgia) State University.
Angus graduated from UK with a bachelor's degree in kinesiology and business administration. She also is the second woman to become associate athletic director at PSC. Former basketball coach Vicki Carson served in the role in 1997.