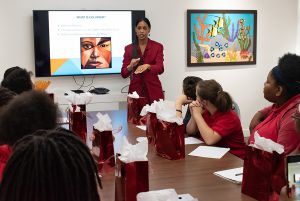 Published: 11-15-2019
By Mike Suchcicki, Pensacola State College
The 10 seventh- and eighth-grade female students listened intently as Dr. Rameca Vincent Leary brought home the pivotal message of her presentation.
"If we are saturated as a society with the public perception that lighter is better and darker is not, if you're not strong enough, or if you don't have that knowledge or education or self-confidence, you might actually buy into that, and that's what we are trying to prevent. That's something that we don't want to happen."
Leary, Business Faculty and Coordinator of Diversity Initiatives at PSC, was addressing the students at Dixon School of the Arts on the topic of colorism.
Colorism, or intraracial discrimination, when people discriminate against others in their own race based on their skin tone or shade of melanin, is a topic that hits close to home for Leary.
"Many people in my family have experienced it," Leary said. In fact, her dissertation was "Colorism in Media Content: A Qualitative Study Focusing on Film and Perception." Hollywood actor, director and producer Bill Duke ("Predator," "Commando," "Black Lightning") was a contributor. "He has had many colorism-related experiences in his life," Leary said.
"It's just the ignorance of it all," Leary said of her passion for the topic. "The fact that people are still being judged by their skin tone. Skin bleaching and creams are a multi-billion-dollar business. So, I would like to educate the masses to, I hope, break down these barriers when it comes to these things and for everyone to see people as they are, part of the human race."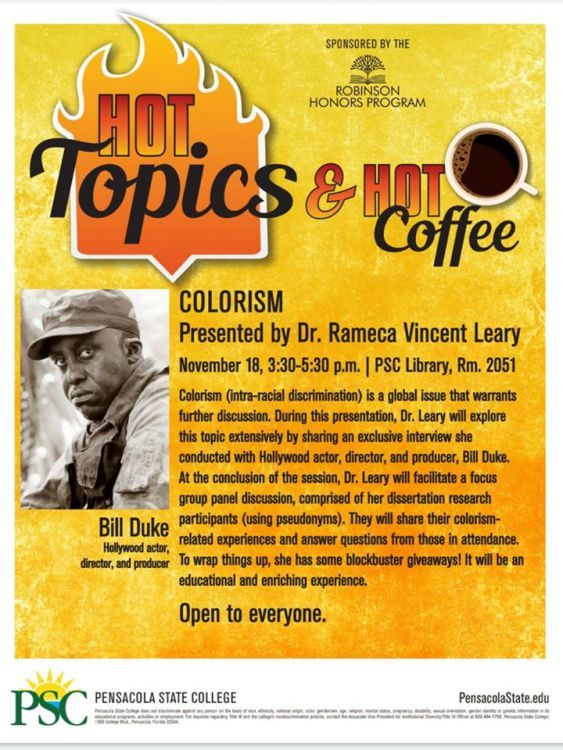 At the Dixon presentation, Leary showed the students a video of actress Lupita Nyong'o's speech at the Essence Black Women in Hollywood event. Nyong'o ("Black Panther," "Us," "12 Years a Slave") was an honoree as a Breakthrough Performance Award-winner.
"I remember a time when I, too, felt un-beautiful," Nyong'o said. "I put on the TV and only saw pale skin. I got teased and taunted about my night-shaded skin and my one prayer to God, the miracle worker, was that I would wake up lighter-skinned." She read a letter from a young fan who said, "Dear Lupita, I think you're really lucky to be this black but yet this successful in Hollywood overnight. I was just about to buy Dencia's Whitenicious cream to lighten my skin, when you appeared on the world map and saved me."
Following the video, Leary split the Dixon students into groups and had them discuss things that stood out in their minds about the speech. The consensus of the students was the message of self-respect.
"The students were engaged and receptive," Leary said after the session. "It was an eye-opening experience that will better equip them for life."
Dr. Lisa Puzon, Dixon's art director, said presentations such as Leary's are important to the students.
"Especially to our seventh- and eighth-grade girls," she said. "They're really struggling with a lot of things.
It's important for them to get as much guidance as they can get, especially from professional women, who really can be role models."
Leary will bring her colorism message to PSC in a "Hot Topics & Hot Coffee" presentation from 3:30 to 5:30 p.m. Monday, Nov. 18, in Room 2015 of the PSC Library. The "Hot Topics" version will be geared to a more mature audience and will include the interview she conducted with Duke as part of her dissertation research.
"I'll facilitate a panel discussion with my dissertation focus group participants, using pseudonyms. They'll share their colorism-related experiences and then answer questions from those in attendance. There will be some heavy-hitting giveaways, but I'm not going to spill the beans."
The "Hot Topics and Hot Coffee" presentation is open to everyone.