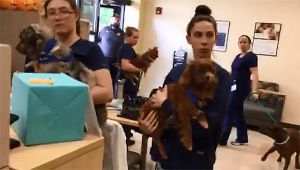 Published: 10-23-2019
By Troy Moon, Pensacola State College
They got a whole different thing going on over in the Allied Health Department at the Warrington campus.
They're learning to draw blood, take x-rays, treat sick animals, clean teeth and other always-needed jobs that will allow them to transfer directly into the workforce.
While many traditional degree-seeking students might enter college not knowing what they want to eventually do once they earn a degree, students in the Allied Health Department programs know exactly what they want to do. The job descriptions are in the programs' titles:
• Dental Hygiene (A.S.)
• Electrocardiograph Technician (Certificate)
• Pharmacy Technician (Applied Technical Degree)
• Pharmacy Management (A.S.)
• Phlebotomy Technician (Certificate)
• Sonography (A.S.)
• Veterinary Technology (A.S.)
• Physical Therapist Assistant (A.S.)
• Business and Management (B.A.S)
• Health Services Management (A.S.)
• Health Information Technology (A.S.)
• Medical Assisting (Certificate)
• Medical Information Coder/Biller (Certificate)
• Radiography (A.S.)
While in many cases, the Pensacola State marketing motto "Go Here, Get There" refers to going to another college after finishing the College's two-year program, in Allied Health, it means "Go Here, Then Go to Work."
"Some are degree-seeking programs, some are certificate programs,'' said Mitzie Sowell, newly-appointed Allied Health Department head. "But they're all programs where when students finish, they can move directly into the workforce. There's a lot going on over here."
Haley Harris is a good-natured, medical-minded student in the Veterinary Technology Program. She moved from her Jackson, Alabama, home, to attend Pensacola State after hearing about the programs from friends.
"I moved here to go to school,'' said Haley, who started helping out in her hometown veterinary clinic when she was 16 years old. "I heard it was a really good program, and really affordable. I wanted to be in an in-class program instead.
In another building at the Warrington campus, there's the Phlebotomy Program, headed by Wilma Duncans-Burnett, who has been with Pensacola State for 32 years. (She plans on retiring in early 2020.)
She shows off the lab room stuffed with synthetic arms and hands all stacked on shelves like they're part of some macabre museum exhibition. But their purpose is purely educational.
The synthetic limbs even have veins and arteries (or whatever you stick needles into; that's why you enroll in the program – so as to learn) that are filled with artificial blood.
Are there any phlebotomy students who are scared of needles themselves?
She's no student, but…
"I am,'' Duncans-Burnett said. "I hate getting shots."
Sharon Wolfe showed off the Health Information Technology and Health Information Management programs, where students learn a whole bunch of technical stuff that we asked Wolfe to boil down to layman's terms.
"We're known as the policemen of the health records,'' she said. "Basically, what we do is ensure all records are complete and accurate. And we're also into data integrity as we move further into the digital age."
In the Veterinary Technology, Program Director Sarah Meyer-Paterson said her students get hands-on experience with animals. Each Monday, area animal shelters bring dogs or cats in to be cleaned, checked and given treatment as needed. The animals are then returned on Wednesday, a little better off than they were when they came in.
Meyer-Paterson said her students have to be adept in so many disparate areas regarding animal care.
"Veterinary technicians do it all,'' she said. "Every program on campus meets a different need in human medicine. Human medicine requires a different person for each procedure or specialty. Veterinary technicians are nurses, radiology techs, phlebotomists, pharmacy techs, anesthetists, surgical techs, medical assistants, dental hygienists and lab techs for a plethora of species."
(The PSC Veterinary Technology program also is hosting an open house on Nov. 13. See details below.)
And like most from Allied Health, program graduates will be able to move right into the job market when finished. That's one of the keys to success for the Allied Health Department, Duncans-Burnett noted.
"Allied Health is successful because it offers programs that the community supports,'' the long-time educator said. "And so many of our graduates to right to work in the community. They're sought after in many cases."
Warrington campus dean Dusti Sluder credits the Allied Health faculty for the program's success, along with the College's mission to provide a great education at an affordable price.
"It's the dedicated faculty – they're here for our students and are committed to their success,'' said Sluder, herself a graduate of the Pensacola State College Nursing Program at the Warrington campus. (Nursing is a separate department from Allied Health.)
"They want students to complete their degrees and work hard to achieve that goal."
WANT TO GO?
The Pensacola State College Veterinary Technician Program is hosting an Open House from 3-7 p.m. on Wednesday, Nov. 13, in Building 3200 on the Warrington campus at 5555 W. Highway 98.
Visitors will be able to tour the facility, meet faculty, speak with financial aid advisors and see exhibits.
For information on the Veterinary Technology Program, call 850-471-4673.
The Pensacola State College Dental Hygiene Program will give free dental sealants to children 15 years and younger from 8 a.m. to noon Saturday, Nov. 9, at the Warrington campus, 5555 W. Highway 98.
Appointments are necessary. Call 850-484-2236 to make an appointment.
For information on PSC's Allied Health Department:
Visit https://www.pensacolastate.edu/departments/allied-health/ or call 850-484-2301.