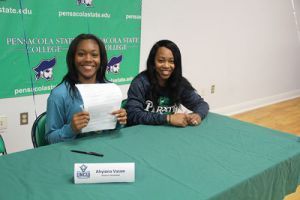 Published: 11-14-2017
Next fall, Ahyiona Vason will trade in her Lady Pirates garb to become a Seahawk at the University of North Carolina Wilmington.
On Wednesday, Nov. 8, Vason a 5-foot 4-inch point guard, signed her Letter of Intent to play basketball at UNC Wilmington in 2018-19.
The Montgomery, Alabama, native will graduate in May with an associate degree in sports fitness and recreation management. She said she felt really at home during a September visit to the Division 1-university.
"It was pretty much how I felt when I came to Pensacola State, it felt like coming home," said Vason, who has been bouncing a basketball since she was in elementary school.
"The coaches and other players at UNC really made me feel like I was a member of the Seahawks family. The campus was beautiful and it just felt like the place I needed to be to continue both my athletic and academic careers."
Lady Pirates Basketball Coach Penny Jones described Vason as a model athlete.
"We can count on her to give her all during every game, at practice and in the classroom," Jones said. "She's also a leader on the team and serves as a mentor for our freshmen players. Ahyiona will be missed but she will be successful and a big contributor to the UNC's Seahawks."
During her first year at Pensacola State, Vason was a 2016-17 Panhandle Conference All-Academic Team member and received a FCSAA Scoring Team Recognition.
A 2016 graduate of Jeff Davis High School in Montgomery, Vason is the daughter of Tameka Vason.