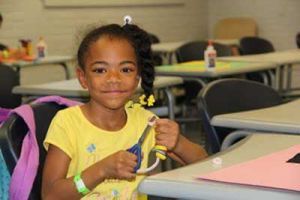 Published: 01-20-2017
Pensacola State College's 26th Annual Kid's College recently was named the Best Summer Camp in the Best of the Coast 2016 competition, sponsored by Independent News Weekly.
Running from June 6 through Aug. 5, Kids' College offered several new courses with cutting-edge fun.
Campers ages 6-12 were introduced to coding in "Minecraft Modders" and created their own animated short film in "Minecraft Animators." They learned basics of designing a 2D game platform in "Make Your First Video Game" and they built robots in "Amazing 4-in-1 Robot."
Creativity, learning and recreation were the focus of more than 60 popular courses such as art, fashion, fishing, languages, science, self-defense, sports, theatre and writing.
Just like regular college students, Kids' College students were able to choose a schedule that included one class per day or a full day of classes and activities, Monday through Friday.
The 2016 Kids' College attracted 436 children with 2,565 total enrollments over nine weeks. In addition to the Kids' College faculty and staff, 49 teenagers ages 14-18 volunteered as camp helpers.
The driving force behind the award-winning 2016 Kids' College was Frances Yeo who had been PSC coordinator of Recreation and Leisure since 2010. She possessed an unwavering enthusiasm for learning and often described her position as being "in charge of fun."
Sadly, Yeo lost her 12-year battle against cancer and passed away last summer before Kids' College ended. However, she leaves a legacy of tirelessly working to offer continuing education opportunities for all ages, from children to senior citizens.
Pensacola State is fortunate to have Michael Listau as the new coordinator of Recreation and Leisure. He came to PSC as an AmeriCorps Vista volunteer and served as the college's volunteer coordinator. Then, he worked as the coordinator of Student Leadership and Activities. Listau is currently working on a master's degree from the University of Florida.