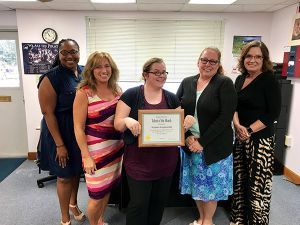 Published: 08-08-2017
Kristen Kuykendall has been selected as the Kelly Services Talent of the Month for June.
Kuykendall is the administrative assistant in Pensacola State College's maintenance department. She joined the college family about four months ago.
The former Minnesota resident said the accolade was totally unexpected.
"It's kind of awesome! I wasn't expecting it and didn't even know they did it," she said. "This was a very nice surprise."
Cathy Alman, Kuykendall's supervisor, describes her as an exceptional employee.
"Upon employment, Kristen was first trained how our department handles maintenance requests, who reports to whom, which division is responsible for specific tasks, etc.  Just three days into her employment, our department had some major reorganization in personnel, job duties/responsibilities, etc.," Alman said.
"Kristen has handled the transition with professionalism and has gone beyond her duties to help with the transition. Kristen's attendance is exceptional and she is always prompt.  Her quality of work is superb and she constantly follows through with tasks to make sure they are completed thoroughly and accurately."
Kuykendall has extensive customer service background. She worked in Best Buy's corporate offices for nearly nine years and for Sea Life Minnesota Aquarium for about a year.
When asked what she liked about working at Pensacola State – Kuykendall quickly responded the people.
"I like the people in my office, the maintenance and grounds staffs and the people I talk to on the phone from all over the college. They really keep me smiling," said Kuykendall who moved to Pensacola to be near more water.
"Minnesota is the land of 10,000 lakes but living here, I'm only six miles from the Gulf of Mexico and beautiful beaches."
Alman added that Kuykendall is very friendly and helpful to any and every one she encounters.
"Kristen is a valued member and contributes greatly to our team," Alman said.
Dawn Hope, Kelly Services Account Talent Manager, said the company is always seeking Talent of the Month nominees.
"If you have a Kelly employee you would like us to consider for the July Talent of the Month, send the submission to me," Hope said.