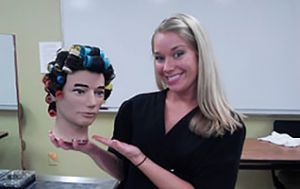 Published: 10-14-2019
By Troy Moon, Pensacola State College
She was the bright, bubbly young woman with the infectious smile and a desire to learn and serve – a true preacher's daughter.
In fact, Jordan "Bekah" Campbell was a model student and leader while studying cosmetology at Pensacola State, said Ann Coon, the College's former cosmetology program director.
"She was the perfect role model," remembers Coon, who now owns her own business, La Fleur Salon and Spa in Navarre. "If I had more students like her, I would have never given up teaching."
It was only after Campbell ─ who went by "Bekah" while at PSC ─ graduated with honors in May 2014, that Coon learned "the perfect role model" had a dark, stained and strained past. Just three years before graduating, Campbell was in prison serving time for fraud and theft brought on, she said, by years drowned and lost in drugs, dependency and, at times, abuse.
Coon found out when Campbell went public about her past on Facebook. Campbell's recovery and positive journey forward just makes her even a stronger role model in Coon's book.
"I read that and I cried," Coon said. "I was overwhelmed by her story. It just make me more proud of her."
Campbell, now 33 and a happily married mother to a 4-year-old daughter, doesn't shy away from her past.
Her website even has her Florida Department of Corrections' mug shot plastered for all to see. She's not ashamed to tell her story. In fact, Campbell is hoping to inspire others who have emerged from dark places to push forward and forge a better life.
"Honestly, there's nothing I desire more than helping anyone who is struggling, or anyone who is dealing with addiction, whether it's food, drugs, alcohol or pornography. There are people who are in these dark places alone, and they just need to know that they have potential, no matter what they did in the past," Campbell said.
Campbell's past begins in Arkansas, where she was born, before moving to Oklahoma at age 3.
"I was a PK – a preacher's kid," she said. "I had my perfect little world, I was loved on by my church family. I had it so cushy, I had no idea what the real world was like because my parents kind of created this nest of safety."
She played basketball and softball. She loved cheerleading.
Then, in 1999 the family uprooted and moved to Pensacola to attend Brownsville Assembly of God, which was still in the midst of a remarkable revival movement that had begun four years earlier and captured national attention.
"It rocked my whole world," Campbell said of the move. "I was only 13 and had just tried out for eighth-grade cheerleading and made the squad. And then we just moved."
The family settled in Santa Rosa County, and Campbell had a hard time adjusting to a strange school full of more students than she had ever seen before.
She said she "made a few friends at first," but still didn't feel the acceptance and warmth she felt back home in Oklahoma.
"I was coming from a place where everyone knew who I was, and I was surrounded by the power of love," she said. "And I was just ripped away from that."
She started hanging with "boys around the block," including an older fellow.
"I was really looking for someone to protect me and give me the love and attention I wasn't receiving," Campbell recalled.
"That backfired very quickly. There were other boys over there that were friends with the young man I was interested and it all spiraled. There was a lot of taken advantage of. I was put in situations where 'No' wasn't being understood and I couldn't scream it loud enough."
And then, the drugs.
"It started with cocaine," she said. "I was hanging around a drug dealer. With all of these wounds in my heart and soul, I began to make all these bad decisions. It was like a spiraling effect. I kept going deeper and deeper."
And it continued for years. Drugs, dependency, and, sometimes, sexual abuse from people she thought were concerned for her.
Soon, she was living with a boyfriend who had been recently been arrested himself.
"We lived with his Dad and the dad was an alcoholic," Campbell said. When her boyfriend was arrested, she continued to stay at the home.
The father gave Campbell his credit card to go bond his son out of jail, she said.
"He was too drunk to do it himself. So I went," she said.
But she stopped at Walmart to get the cash. The same Pace Walmart where she had been arrested for shop lifting just a few months earlier.
"So I was trespassing," she said. "The lady tackled me to the ground while I'm on the phone with my boyfriend who is in jail."
She laughed a bit at the absurdity of the situation.
When the father found out she was in jail, he got upset and accused her of stealing the card. She was charged with credit card fraud and grand theft and sentenced to 10 months incarcerated, serving most of her time at the Lowell Correctional Institution in Ocala.
"Walking through the door from (transfer and receiving station) into the yard with the barbed wire was eye opening," Campbell said. "It was bad enough the seven-hour drive – no stop to go to the bathroom, chained up to seven other girls in a dog cage van."
She was scared, but she did have support.
"My grandmother was behind me, my Dad wrote me, my Mother sent me a card," she said. "And my great-aunt starts to send me letters and pictures and birth announcements, and I'm sitting there in prison soaking it all up."
The aunt also sent Campbell her old baby photos and her birth announcement.
"All of a sudden, it came flooding back to me, who I was and how I had forgotten myself," she said. "I'd wrap myself in a blanket and pretended like I was in a cocoon."
She said she kept hearing God speak to her, telling her she would emerge a "beautiful butterfly."
Campbell said it was an infusion of renewed faith "pouring inside my soul and filling up every little piece of my life that had been destroyed that literally saved me."
She was released from prison in March 2011 and went to stay with her father in town, before getting a job at a liquor store.
Campbell – her maiden name was Hubbard – then connected with a friend of a friend on Facebook, and soon she was dating Justin Campbell, who proposed to her on the field in front of a large crowd at a Pensacola Blue Wahoos game. The couple married in April 2013.
A month later, Campbell enrolled in general studies classes at Pensacola State.
"I made really good grades," she said, "but I knew there was something I could do that would get me where I wanted to be quicker."
But, "having a felony, I was limited on options," Campbell said. "Health care was no longer an option. But I knew I wanted to work with people."
She entered the College's cosmetology program, where she was a top student and found a purpose. A highlight, she said, was doing her mother's hair for her senior project.
"Her work was just the best," said former cosmetology instructor Mary Ann Watts. "She was a true leader.
Sometimes, when I was having a tough day, she would give me this look of compassion. I probably needed her as much as she needed me."
Campbell loved Pensacola State.
"Oh my gosh, PSC for me was my second family," she said. "Ms. Coon and Ms. Mary Ann Watts and every single one of my instructors were like a mother or father to me, 100 percent. I still reach out to them. The experience of being at PSC really gave me a foundation for having a career."
By this time, she had left the liquor store and was waiting tables at a local restaurant.
"PSC really gave me a foundation for having structure and a career," she said. "The restaurant work wasn't "giving me the fulfillment I knew I could get in a trade school career."
She even competed in the College's SkillsUSA chapter, placing high at both the regional and state conferences.
Now, Campbell "does hair" at home for clients. She's also homeschooling the couple's 4-year-old daughter, Kensie, and leads a study group for Liberty Church Milton Campus, where she meets regularly with women to talk about troubling issues from a Christian perspective.
Her hopes are to help others who have traveled the same dark roads as she ─ maybe a prison ministry project, she said.
"I want to do something in the ministry field," she said. "It would be such an honor to help others feel the hope and love I feel now. You can always turn the page."
Jordan Campbell went from prison to Pensacola State College, and credits the College for helping to turn her life around. Video by Troy Moon.

Posted by Pensacola State College on Thursday, October 10, 2019