Troy Moon, Pensacola State College
A tall, lanky right-handed hurler took the mound at Pensacola Blue Wahoos Stadium on Tuesday night and fired, relatively speaking, a high strike to the plate.
Some might argue that the pitch was a tad too high, but the Pensacola State College faithful were the umpires when PSC President Ed Meadows threw out the ceremonial first pitch of the Blue Wahoos' game against the Biloxi Shuckers. So, it was definitely a strike.
Dozens of PSC fans, faculty, alumni, coaches and students, along with family members, took over a portion of the right field Winn Dixie Party Deck on Tuesday for the PSC Alumni and Athletics Night event. It was the first PSC party at a Blue Wahoos game since 2013.
Hailey Lotz, PSC Alumni Association and Booster Club director, said 83 Pirates, some with family members, were in attendance.
"We are thrilled," Lotz said, who attended the game with her 10-year-old daughter, Corrine. "This is great for us – it's been a while. Everyone is ready to be out and be active."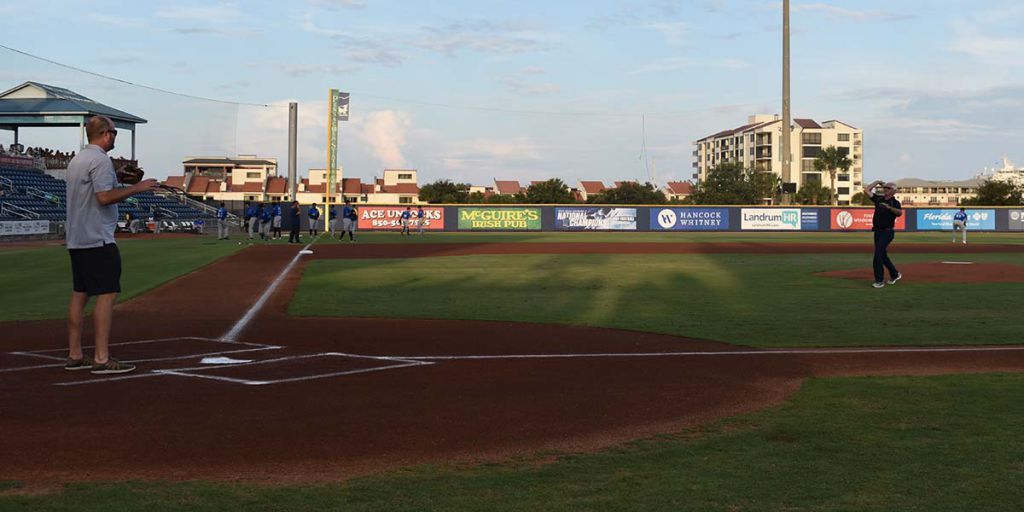 The Pirates took home some booty even if the Blue Wahoos couldn't take home the win – Biloxi won, 4-2. Every PSC attendee received a specialty Blue Wahoos cap, as well as free hotdogs, burgers, pizza and soft drinks in the Winn Dixie Party Deck.
"It was a lot of fun," said Debbie Douma, PSC Dean of Grants and Federal Programs. "It's always good to gather outside the workplace and see different people from different departments. I saw faculty, staff, coaches and alumni. It was nice."
Meadows got the game going with his ceremonial first pitch, which was received at the plate by PSC baseball coach and athletic director Bryan Lewallyn. If Meadows was feeling pressure, he didn't let on.
"Have you warmed up?" PSC basketball coach Pete Pena asked Meadows before he made it down to the field. Meadows just smiled. A few more folks asked him the same question as he got closer to the field.
Was he nervous?
"No," said Meadows, who pitched and played first base in youth baseball, and who has thrown out a ceremonial first pitch at previous Blue Wahoos' games. "I've done this before."