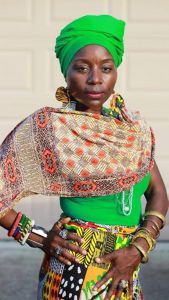 Published: 05-30-2019
Nielah Black Spears, an international performer, author, community activist, ordained minister and wellness coach, will present "Up From The Mud," a wisdom journey of wellness tools for the mind, body, soul and spirit.
Sponsored by the Pensacola State College Black History/Multicultural Committee, the free event is set for 7 p.m. Wednesday, June 12, in Hagler Auditorium, Building 2, on the Pensacola campus at 1000 College Blvd.
Spears also will conduct a lecture, a book signing and an interactive audience demonstration of "Afrikan Holistic Health and Wellness" through Song, Poetry and Movement.
In her latest book, "Up from the Mud ─ The Rebirthing of A Lotus," Spears shares how the Lotus Flower serves a guide to applying ancient practical principles and precept as healing tools for everyday life.
A New York native, Spears has been performing internationally – Europe, North America, South America, the Caribbean, Africa, Southeast Asia, Trinidad and Tobago and Russia ─ for more than 30 years.
She has performed professionally with various African, Cuban, Caribbean, modern dance, theater and vocal groups. At age 10, she performed for President Jimmy Carter with the "I AM" dance theater ensemble. She received her formal dance training from Alvin Ailey, Judith Jamison, Debbie Allen, Garth Fagan and Allen LaFleur.
For more information about "Up From The Mud," call (850) 484-1754.
If you go
What: "Up From The Mud"
When: 7 p.m. Wednesday, June 12
Where: Hagler Auditorium, Building 2, Pensacola State College campus.
Admission: Free