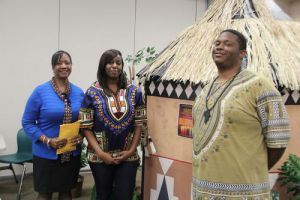 Published: 12-12-2017
Pensacola State's Student Center was transformed into a global market on Nov. 29 when the college hosted the annual International Festival.
Students set up exhibition booths with artifacts, foods and other items from Angola, Costa Rica, Egypt, Germany, Indonesia, Japan, Malawi, Mexico, Morocco, Nicaragua, Nigeria, Panama, Russia, Saudi Arabia, South Korea, Sweden, Thailand and the Ukraine.
Students, faculty and staff from all over the campus turned out for the worldwide excursion.
PSC Recruiter Rickell Irwin described the event as a mini-tour around the world.
"The International Festival was very culturally diverse, they were so many countries and cultures represented. There were representations from various continents and cultures like Africa, Mexico, Germany and Japan," Irwin said.
"There was so much food! My favorite was from Mexico, they featured tostadas! I appreciated the educational component each table had and the food was a bonus."
Visitors were given a passport at the entrance to the festival and were required to have it stamped at each country they visited.
Festival sponsors included Pensacola State College, the Robinson Honors Program, PSC Student Government Association, Active Minds, the Florida African-American Student Association, Phi Theta Kappa Honor Society, the Collegiate High FBLA, Jamling Sherpa, Sumaya Krichi, Giselle Ayala, Rita Schreppel, Irina Pashchenko, Chin Dixon and Jen Ehrhardt.