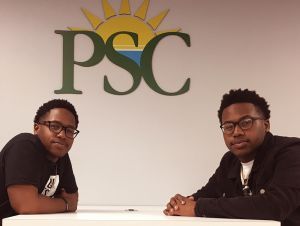 Published: 02-10-2020
By Troy Moon, Pensacola State College
Andrew and Aundre Conner are identical twins from their heads to their toes.
OK, almost identical. Aundre's toes are covered by classic checkerboard Vans, while Andrew is sporting an all-black model of the iconic Vans shoe brand. But that's nitpicking.
The 18-year-old Conner twins might have different shoes, but they're walking the same path, just as they always have. Now at Pensacola State College, both brothers are taking seven classes – they share six together – and plan on transferring to Florida A&M University after earning about 30 credits at PSC.
They only plan on going to Florida A&M to have a university experience away from home. But PSC is their "home college."
"We have roots here," Aundre said. "A lot of the people we went to Washington (High School) came here. My older brother went here."
"And it's a lot less expensive than other colleges," Andrew said. "That's huge."
Both are members of the Pensacola jazz/blues quintet, Soul Station. Andrew plays trumpet. Aundre plays bass in the band that began with friends during their freshman year at Washington High.
At PSC, the Conners are enrolled in music classes and are members of both the PSC Symphonic and Jazz bands.
"Mr. Snowden is a great music teacher, he definitely knows how to teach," Aundre said.
"And this is his last year," Andrew said of PSC music director Don Snowden, who retires this year. "So, we're pretty fortunate to have him."
"I was like 'Thank you Jesus!" when I found out he would still be our teacher this semester," Aundre said.
Soul Station has performed at the Pensacola Jazz Fest, Gallery Night, the Belmont Arts and Cultural Center Soul Fest, the Seabreeze Jazz Festival in Panama City Beach and numerous clubs across town, including Perfect Plain and Five Sisters Blues Café.
The twins' first instrument was the piano, which they learned at an early age.
Music was important to the family. Their father was a trumpet player and their older brother plays saxophone. And it was the brothers' mother who urged them to take up music as children.
The brothers can perform classical music and have performed with area orchestras. Though the Conner brothers have not yet committed to a major – they're taking general studies courses at PSC – their desire to perform will now dim.
"We want to keep playing music," Andrew said. "It's such an important part of our lives."
The Conners know there is curiosity about identical twins and are used to questions.
"We just had the question – we get it all the time," Aundre said when asked what it's like to go to school with an identical twin. "It doesn't bother us (the questions). We're used to it."
So…?
"It's all good," Aundre said. "We're always around each other anyway."
The brothers are as close as you would expect. They tell stories of sharing thoughts or thinking of the same song at the same time.
But like brothers, they're not going to get all lovey-dovey about their relationship.
"What's your brother's best quality?" they're asked.
Silence.
Finally, Andrew comes up with something.
"He's a good bass player."
It's Aundre's turn. But he's taking a bit longer.
"What's my best quality, Aundre?" Andrew asked.
After a few more seconds – "He dresses nice."
OK, an easier question:
"What's the one thing that most people are curious about when it comes to you two?"
"People want to know if we switch classes with each other," Andrew said. "But we can't do that because we're in the same classes."
PHOTO: Left, Aundre Conner; right Andrew Conner. (We think.)