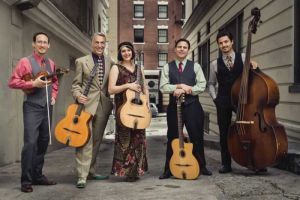 Published: 09-16-2016
Hot Club of San Francisco plays cool gypsy jazz at 7:30 p.m., Thursday, Sept. 29, at Pensacola State College's Ashmore Fine Arts Auditorium, Building 8, on the Pensacola campus, 1000 College Blvd.
Hot Club of San Francisco celebrates the music of guitarist Django Reinhardt and violinist Stephane Grappelli and the original Hot Club de France. With style and panache, this unique jazz performance recalls Paris in the 1930s and offers a swinging beat with a sweet melody.
The ensemble of accomplished and versatile musicians is led by Paul Mehling on guitar and includes French native Isabelle Fontaine on guitar and vocals, Evan Price on violin, Jordan Samuels on guitar, and Sam Rocha on bass.
Tickets are $11, adults; $9, seniors, non-PSC students and children; $7, PSC Seniors Club, PSC faculty and staff; and free for PSC students with current ID.
Purchase tickets online at www.pensacolastate.edu/lyceum or at the Lyceum Box Office, Building 8, Room 861, from 8:30 a.m. to 4 p.m., Monday through Friday. Tickets also are available at the door, one hour before a performance.
For reservations or more information, call the Lyceum Box Office at 850-484-1847.