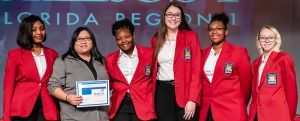 Published: 11-04-2020
Mary Mabins, Pensacola State College
Theresa Hoang has been involved with Pensacola State College's SkillsUSA chapter since its inception – first as a student and now as a leader. Whenever the College is a part of SkillsUSA Florida regional, state or national event, Hoang is always right there.
For her service, Hoang was selected the SkillsUSA Florida Region 1 Alumni of the Year for a second consecutive year.
"I felt really honored to be awarded Alumni of the Year for the past two years," said Hoang, the 2019 and 2020 Alumni of the Year. "It's great being able to give back because SkillsUSA has given me so much more. I've learned a lot being a part of this great organization as a student and as an adviser."
Hoang was a student when Pensacola State chartered its chapter in 2009. During those early days, she served as both a PSC chapter officer and a Region 1 officer. After graduation, Hoang took a position in 2011 working with Jennifer Ponson – the College's coordinator of Student and Program Outreach and the SkillsUSA Florida Region 1 Coordinator.
Hoang, an office assistant in the Student and Program Outreach Department, said the organization is important to students because it teaches them not only workplace and technical skills but also personal skills.
"I have firsthand knowledge that being involved in such an incredible organization as SkillsUSA will help students improve their leadership and workplace skills in the career field they are pursuing," explained Hoang, who is a SkillsUSA co-adviser. "It makes students stand out among others when employers see that they have been involved with SkillsUSA."
Pensacola State is a tradition for the Hoang family. Hoang earned her associate of arts degree from Pensacola State in 2010 and plans to later pursue a bachelor's degree in business. Her brother, John, earned his EMT and paramedic certification, and her twin brother – Frank – received his electrical certification from PSC.
Hoang and her girlfriend, Delaney Underwood, live in Pensacola. Underwood also works in the College's Office of Institutional Development. The couple has a fur baby named, Gypsy.