Published: 06-16-2022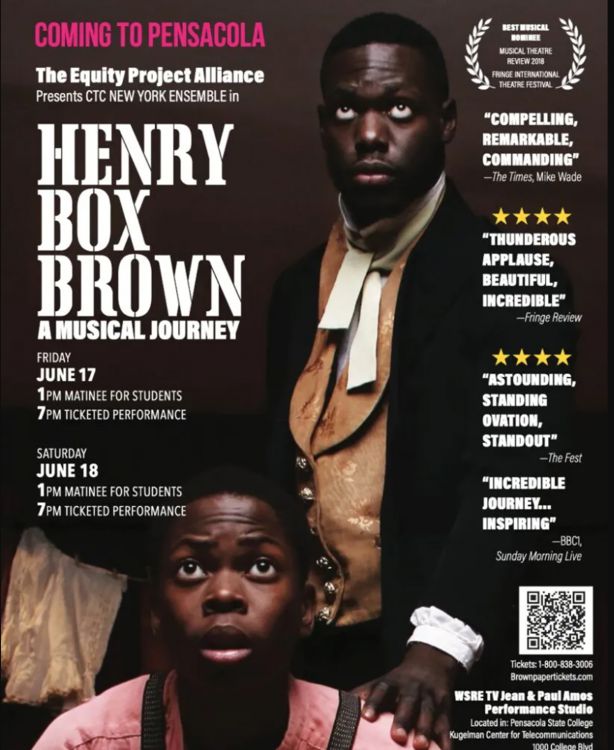 Inspired by true events, award-winning musical explores the triumph of the human spirit
The critically-acclaimed musical, "Henry Box Brown: A Musical Journey," is coming to the WSRE Jean and Paul Amos Performance Studio thanks to a grant awarded to Equity Project Alliance through The Hive social responsibility program of Innisfree Hotels.
Sponsored in part by WSRE PBS, performances are at 6:30 p.m. on Friday and Saturday, June 17–18. Tickets are $40 plus fee and for sale at henryboxbrownthemusical.com.
"Henry Box Brown: A Musical Journey" is the story of an 1850s enslaved Virginia man who shipped himself in a box to freedom with help from abolitionists. Called "compelling" and "remarkable" by Britain's The Times newspaper, the musical was awarded Best Musical Nominee for two consecutive years by the Edinburgh International Fringe Festival.
The Hive was established by Innisfree Hotels to foster a workplace that promotes a culture of responsibility and service to humanity, focusing on projects of significance like Equity Project Alliance. The Equity Project Alliance mission is to confront systemic racism and promote transformative thinking, unity and equity for everyone.
About WSRE PBS: WSRE, a PBS member station licensed to the Pensacola State College District Board of Trustees and supported by the WSRE-TV Foundation, serves as a critical media source for trusted content and a safe media space for children to grow and learn.