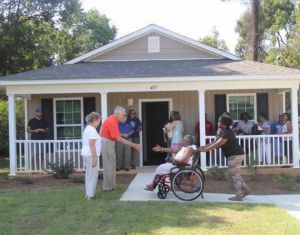 Published: 10-03-2016
It was a community-wide effort when more than 30 friends and family turned out Sept. 24 to help Pensacola State College employee Angela McDaniel dedicate her new home.
Located in northeast Pensacola, the three-bedroom two-bath home is handicapped-accessible for Angela and her husband, James McDaniel, who are both disabled and use wheelchairs for mobility.
Constructed by the Pensacola Habitat for Humanity, the Building on Faith home was a joint effort among the non-profit Christian ministry, the McDaniel family and area faith-based organizations including Cokesbury United Methodist Church and Angela's home church, Greater Mount Lily Baptist Church.
"I volunteered more than 500 hours at the Ronald McDonald House," said Angela, a Pensacola State telecommunications operator for the past 17 years. "I've owned homes before but when I became disabled at age 24, it was difficult maneuvering in a regular house. This new home is a dream come true – my favorite room is the bathroom. It's extremely large with a wider doorway, a lower vanity and a big shower."
The entire house also has wider doorways, lower counters in the kitchen and easy-to-reach appliances. It also comes equipped with a large laundry room.
The "Faith Build" home is a testament to Angela's life. A woman of extraordinary faith, she never hesitates to share the impact God has had on her life.
"I was shot four times when I was 24 years old and here I am at 64 – 40 years later ­– God is still keeping me," she said. "I could have died but God is great. He has been so good to me. To God be the glory!"
Those who know Angela are quick to point out her faith is evident and the love she has for everyone shines through.
"Angela is a woman of strong faith who is a blessing to everyone who meets her. She is always so upbeat and encouraging," Pensacola State President Ed Meadows said. "I have worked in the same building with her for more than eight years and have never known her to have a bad day. In fact, some days when I was feeling a little distracted or preoccupied, she was a ray of sunshine for me."
Sandra Randall, a Pensacola State administrative assistant in biological sciences, has known Angela for many years and echoes Meadows' sentiments.
"I can't recall when I first met Miss Angela. I knew her before I started here at Pensacola State College but I would see her around town at various church functions and I thought to myself, 'There is a lady who is determined not to let her disability keep her from accomplishing anything she desires,' " said Sandra who added Angela always referred to her Faith Build home as a blessing.
"Whenever she talked about it her face beamed with excitement. And Miss Angela also talked about the volunteer hours that she would have to do in the community. I often wondered how she did it after working at Pensacola State all day, then to go volunteer at the Ronald McDonald House and even sometimes on the weekend. That is what I called determination and dedication. Most of us would say, 'Hey, let me think about this,' but NOT Miss Angela she did it and didn't miss a beat."
Construction on the house started this spring and the McDaniels hope to move into it in October.
Under the Building on Faith program, the Pensacola Habitat for Humanity works with up to 20 faith partners to raise the funds for and then actually construct a home for a local family. Those faith partners include churches, temples, mosques or other faith-based organizations.
Founded in 1981, Pensacola Habitat's mission is to build homes and improve communities in partnership with low-income families in Escambia and Santa Rosa counties. More than 1,000 families have purchased homes through Habitat programs since the organization began.
Angela, the mother of two daughters – retired U.S. Air Force Master Sgt. Shenita Johnson, 44, and Kendra Johnson, 43, a manager for Avis Rental – said she is most excited about decorating her new home.
"I'm getting a lot of help from my family, everyone is chipping in to help us with the decorating. One of my daughters, Shenita, is going to buy us a dishwasher, a sister is decorating one of the bathrooms, my niece in Hawaii is buying and shipping us home décor items. Family is so important to all of us," said Angela, one of seven children and a grandmother to five and great-grandmother to her pride and joy, Elijah.
Angela said she wants everyone to know that despite where life takes you, remain faithful.
"No matter what you're going through, just know God is bigger than everything. Stay faithful, treat others with love and respect, your blessings will come," she said.
FacebookTwitterGoogle+