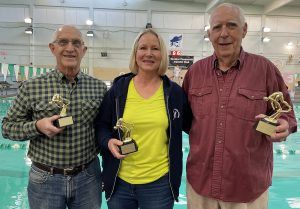 Published: 03-25-2022
Troy Moon, Pensacola State College
The Gulf Coast Pirate Swimmers Team ─ made up of adults taking swim classes at Pensacola State College ─ won first place among mid-size teams at the 2022 Auburn Masters SCY Invitational held March 19-20 at Auburn University.
Three team members also were the overall winners in their age groups.
Linda Duff was the top female overall swimmer in the 60-64 age division. Bill Evans won the 70-74 age division and Ray Ascherfeld was the top finisher in the 85-89 age division.
The team is coached by Chris Barfield. The swim classes that team members participate in are run by PSC Aquatic Center Coordinator Kay Miller.
"We were a smaller team – we only had nine swimmers compete," Miller said. "I'm really proud. They did great."
Each team member swam up to eight individual events, as well as team relays. The other members of the Gulf Coast Pirate Swimmers Team are Bryan Baars, Chris Barfield, James Burns, Bill Knisely, Ilia Reyes and Debbie Simmons.
"I really didn't start (serious swimming) until later in life," Duff said. "I was in my 40s. But it's so much fun, and it's fun being part of a team."
Evans is the long-distance specialist on the team.
"I can't do sprints very fast,'' he said. "But I am good at the longer events. That's what I excel in."
Ascherfeld said the team refers to Evans as the "Energizer Bunny" because he keeps "going and going and going."
As for himself, Ascherfeld, the oldest member of the Gulf Coast Pirate Swim Team keeps going and going as well.
"I've been swimming for a long time," he said. "It makes you feel young and it keeps your mind young. You're tired when you get out, but if you don't do it, you'll feel it later in the day. Swimming energizes you."
For information on the PSC Aquatic Center including pool hours and various classes and programs, go to https://www.pensacolastate.edu/current-students/student-services/aquatics/.
PHOTO: Left to right, Bill Evans, Linda Duff and Ray Ascherfeld showing off their individual first place trophies