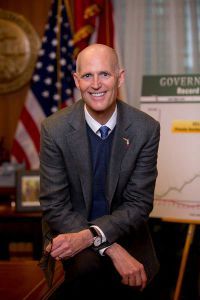 Published: 01-20-2017
Gov. Rick Scott has declared this week, Jan. 9-13, as Florida First Responder Appreciation Week.
"First responders play a critical role in keeping our communities safe, and all Floridians benefit greatly from the services they provide," said Scott who is encouraging residents to take time to tell first responders and their families how much their services are valued.
"The Florida College System's 28 institutions provide Floridians with the opportunity to pursue their academic and career goals, and as a result of your leadership and our students' dedication, we have some of the best colleges in the nation. Many of your colleges offer outstanding programs that train students to be first responders, and those graduates have saved countless lives."
At Pensacola State's Warrington campus, Dean Dusti Sluder sent thank you notes to the faculty and staff of the college's Emergency Medical Services A.S. degree program.
EMS graduates coordinate the activities of persons involved in the rescue, transportation, and care of accident or catastrophe victims, and others requiring emergency medical assistance. They manage administrative requirements such as staffing, maintaining records of facilities and personnel and periodically inspecting facilities. First responders also develop, plan and participate in training programs for ambulance and rescue personnel.
Pensacola State's four-semester certificate program is designed to provide those responsible for pre-hospital emergency care the opportunity to become skilled in advanced life support measures. The EMS and the Paramedic programs are accredited by the Committee on Accreditation of Educational Programs for the Emergency Medical Services Professions.
This is the third year Scott has recognized first responders. He noted that when Pulse Nightclub in Orlando was attacked on June 12, first responders put their lives on the line to rescue the injured and prevent an even more horrific tragedy.
"During hurricanes Hermine and Matthew, our brave men and women in uniform courageously rescued many Floridians, assisted with evacuations, and responded to the needs of communities," the governor said in a press release. "From law enforcement officers to firefighters, paramedics, and emergency medical responders, there is always someone we can call upon to protect and help us and our families in an emergency. As a father and grandfather, I take comfort in this fact and I know that many of our state's residents share that sentiment."