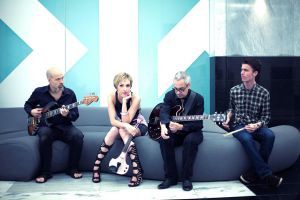 Published: 09-27-2017
The Galactic Cowboy Orchestra performs an eclectic mix of art-rock and jazz fusion at 7:30 p.m. Saturday, Sept. 30, at Pensacola State College's Ashmore Fine Arts Auditorium, Building 8, on the Pensacola campus.
Nominated for Best 'Beyond' Band by Downbeat Magazine two years running, Galactic Cowboy Orchestra stretches musical limits with intensely energetic art-rock. This genre of rock often encompasses poetic lyrics and complex harmonic sounds derived from jazz and classical music.
While their selections require considerable training and skill, the Galactic Cowboy's four fun-loving musicians combine their love of a good riff, hummable melody and groovy jam to perform music that excites and entertains audiences around the country.
Tickets are $11, reserved admission; $9, seniors, non-PSC students and children; $7, PSC Alumni Association, PSC Seniors Club, PSC faculty and staff; and free for PSC students with ID.
Purchase tickets online at www.pensacolastate.edu/lyceum or at the Lyceum Box Office, Building 8, Room 861, from 8:30 a.m. to 4 p.m. Monday – Friday. Tickets also are available at the door one hour before a performance.
For reservations or more information, call the Lyceum Box Office at 850-484-1847.