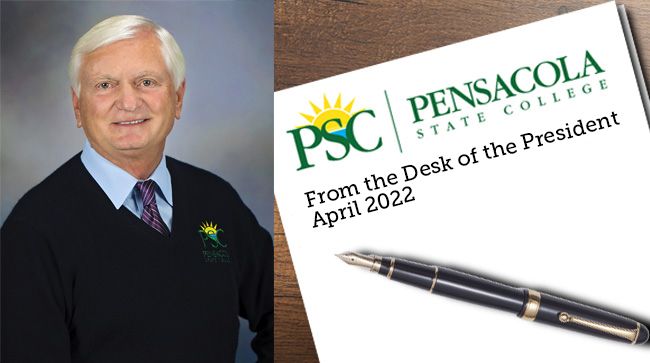 Greetings to the Pensacola State College family!

This message is to share information with everyone at the College about this year's legislative session and to discuss enrollment trends.
Pending the veto pen of the Governor, the Florida College System and especially PSC had a good year from a budget perspective. However, one policy bill that passed this legislative session will drastically alter our position with our regional accrediting agency, the Southern Association of Colleges and Schools Commission on Colleges.  Language in this bill will require Florida colleges and universities to change accrediting agencies every accreditation cycle.  Regional accreditation is necessary for institutions to award federal financial aid to students.  Since it takes approximately three years to become accredited, this requirement would require institutions to be dually accredited for about six years out of ten.  This endeavor would be very labor-intensive and extremely costly for any institution. There will be efforts during the next legislative session to repeal this legislation.
Because of the efforts of our legislative delegation, including Senator Doug Broxson and Representatives Alex Andrade, Michelle Salzman, and Jayer Williamson, PSC received additional funding for the much-needed nursing program expansion and repaving of the College's roads and parking lots.  For the System, some increases were appropriated for completion of the Associate in Arts degree and transfer to a university as well as completion of industry certifications and college workforce certificates.  Additional funds were also appropriated for our general fund, which the College will need to use for increases in health insurance costs and utility costs.
Additional information will be provided once the budget is finalized.
As I mentioned in my last message, the national trend of decreased enrollment will impact community college revenue that comes to the College in the form of tuition and fees.  Therefore, we need enrollment and retention to be a priority for the College.  With fewer graduating high school students, PSC must focus on recruiting nontraditional students and offering short-term workforce certificates while still initiating inventive efforts to enroll our fair share of traditional students.  We are currently reviewing the preference of current students regarding delivery methods for our courses including in-person, Live Online, asynchronous online, and other formats.  How and when we offer courses and provide support for those courses will help us compete for students in the future.  Due to gas prices, students may increasingly look for ways to enroll in general education courses that require a minimal amount of travel.
Because of the price of gas and other inflation factors, the College will stay on a four-day workweek schedule for the entire summer, beginning May 9 and ending Aug. 1. However, to provide students access to student services, we will have two four-day schedules in student services offices. Some personnel will work Monday through Thursday, and some will work Tuesday through Friday. With input from secret shoppers, we will improve our live phone service, especially during registration periods. The Marketing and Information office will create a form on our website to receive suggestions for improving responses to student inquiries. As we fully utilize Workday, our services for students will improve and our response to students will get better; however, we should all remember that a quick, quality response will go a long way in helping, recruiting, and enrolling students. Once students are in the classroom whether face-to-face or online, our faculty will do their best to ensure that our students have every opportunity to be successful.
I thank all of you for your hard work and know that you will continue to do your best to help our current and prospective students feel welcomed and assured that they can "Go Here. Get There."