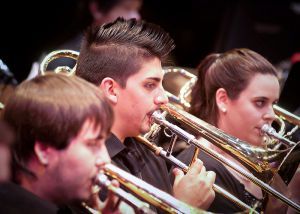 Published: 04-04-2017
Pensacola State College presents the Wind Ensemble and Jazz Ensemble in a free concert at 7:30 p.m. Thursday, April 6, at the Ashmore Auditorium, Building 8, on the Pensacola campus, 1000 College Blvd.
The public is invited. No tickets are required. Doors open at 7 p.m.
Directed by PSC Performing Arts Department Head Don Snowden, the Wind Ensemble's program, "Spring Has Sprung," features Alfred Reed's "Hounds of Spring," Timothy Mahr's "Endurance," and Robert Palmer's "Overture on a Southern Hymn."
Julie Giroux's new composition, "A Grace in Being," will be presented for the first time in Pensacola.
Roger Villines leads the acclaimed PSC Jazz Ensemble in a concert featuring music by Miles Davis, Jeff Jarvis, Kris Berg, Horace Silver and "Spain" by Chick Corea.
For more information, call the Lyceum Box Office at 850-484-1847.