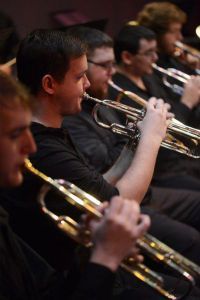 Published: 02-13-2017
Pensacola State College's Performing Arts Department presents the Wind Ensemble and Jazz Ensemble in concert at 7:30 p.m., Thursday, Feb. 16 at the Ashmore Auditorium, Building 8, on the Pensacola campus, 1000 College Blvd.
The public is invited to this free event. No tickets are required and the doors open at 7 p.m.
Performing Arts Department Head Don Snowden directs the Wind Ensemble in "Back to the '70's" featuring band classics such as Elliot del Borgo's "Do Not Go Gentle Into That Good Night" based on the poem by Dylan Thomas, John Barnes Chance's "Elegy," and John Zdechlik's "Chorale and Shaker Dance."
Jazz trumpeter Roger Villines leads the Jazz Ensemble in several lively numbers including John Coltrane's "Blue Train," Gordon Goodwin's "Act Your Age," Thelonious Monk's classic "Round Midnight," and Glenn Miller's "In the Mood."
For more information, call the Lyceum Box Office at 850-484-1847.
For the complete Lyceum Series schedule, visit www.pensacolastate.edu/lyceum.