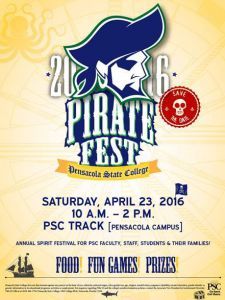 Published: 04-06-2016
Tired of seeing your funds fizzle? Plant some financial information and grow your money! Learn to cook on a dime, understand credit and manage your finances at Pensacola State College's annual Money Matter$ Week activities April 11 through 15.
Throughout the week, there will be Money Matter$ information booths at all PSC locations, displays in all libraries and a digital scavenger hunt with great awards.
The popular Cooking on a Dime food-tasting event features a Pack-n-Go Edition this year with free food, giveaways and door prizes. Look for it from 11 a.m. to 1 p.m. at the Warrington Student Center, Tuesday, April 12 and at the Pensacola Student Center, Thursday, April 14. These two events are sponsored by Members First Credit Union.
After sampling all those goodies, you can find the easy recipes with inexpensive ingredients in the "2016 Cooking on a Dime Pack-n-Go Cookbook" online at http://moneymatters.pensacolastate.edu/pensacola-state-college-2016-cooking-on-a-dime-pack-n-go-cookbook/.
Another favorite event, Understanding Credit, is presented by Pen Air Federal Credit Union at the Milton Student Center from 10:45 to 11:45 a.m. Wednesday, April 13. Come and enjoy the free food and giveaways.
Got financial questions? Find where to look up answers at the Finance Literature event with student speakers and faculty experts at the Pensacola Student Center from 11:15 a.m. to 12:15 p.m. Wednesday, April 13.
Rounding out the week of financial fun is the second annual Cornhole Challenge – with a chance to win a great prize – hosted by students from Adult Education from 11 a.m. to Noon, Thursday, April 14, at the Pensacola Student Center.
Don't miss out! Find more program descriptions and up-to-date information at moneymatters.pensacolastate.edu.