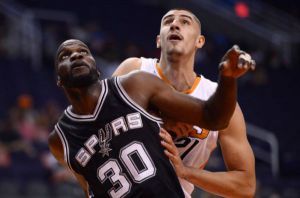 Published: 05-16-2017
Former Pensacola State College basketball player Joel Anthony is chasing his third NBA title as a member of the San Antonio Spurs.
Anthony played for the Pirates from 2002-2004 where he was recruited out of Quebec, Canada. After his career at Pensacola State, Anthony moved on to University of Nevada, Las Vegas where he would be named the Mountain West Conference Defensive Player of the Year.
Anthony would then sign with the Miami Heat and become a key contributor to helping the Heat win back-to-back titles. Now in his ninth year in the league, Anthony is a player who has been around the league and brings a sense of knowledge and experience to this Spurs team as they try to chase down another title.