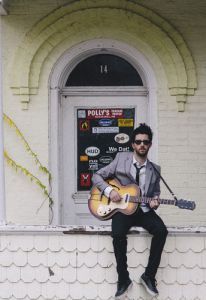 Published: 01-23-2018
Renowned musician Andy Stack will bring his original roots, rock and Americana sounds to Pensacola State College tonight.
The guitarist, multi-instrumentalist, vocalist, and record producer is set to perform at 7:30 p.m. in Ashmore Fine Arts Auditorium, Building 8, on the Pensacola campus, 1000 College Blvd.
Since he began playing Bob Dylan covers at age 12 to earn tips in coffee shops, Stack has consistently struck a chord with his audiences. He formally started touring with a blues band when he was 15, and later attended the State University of New York at Purchase for his musical training.
Over his career, Stack has collaborated with artists such as Suzanne Vega, Lucius, Teddy Thompson, Jonah Smith, Mike and Ruthy, NY Ska Jazz Ensemble and many others.
Tickets are $11, adults; $9, seniors, non-PSC students and children; $7, PSC Seniors Club, PSC faculty and staff; and free for PSC students with current ID.
Purchase tickets online at www.pensacolastate.edu/lyceum or at the Lyceum Box Office, Building 8, Room 861, from 8:30 a.m.-4 p.m. Monday through Friday. Tickets also are available at the door, one hour before a performance.
For reservations or more information, call the Lyceum Box Office at 850-484-1847.