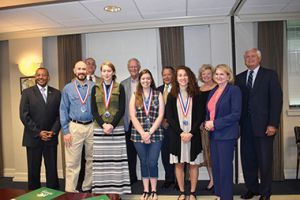 Published: 07-15-2019
Five Pensacola State College students were selected for the Florida College System's 2019 All-Florida Academic Team for academic achievement, leadership and community service.
Cherish French, Taylor Ruppel, Benny Segovia, Brianna Smith and Christian Weidel were among the more than 150 FCS students recognized at a ceremony held on April 4 in Orlando.
The Pensacola State students were recognized by the College's Board of Trustees during the June meeting.