Troy Moon, Pensacola State College
OK, one young man got a bit woozy when they brought out the big needles during a phlebotomy demonstration.
But other than that, all involved with Pensacola State College's first Teens College Health Science Boot Camp called it a success.
The one-week – July 19-23 ─ camp at the Warrington campus was for teenagers too old for PSC's traditional Kids College camp. Students who attended got a little taste of all the health sciences offered at PSC, from EMT to Veterinary Technology.
"They did a little bit of anatomy and physiology and did sutures on (model) animals,'' said Mitzie Sowell, PSC Health Sciences department head. "They did some microbiology where they took cultures of clean and dirty hands to see the difference and how well they washed their hands."
Other highlights were separating mock DNA using a gel electrophoresis machine, learned about scaling and cleaning teeth in the Dental Hygiene classrooms and even learned the art of moulage – creating mock wounds – using unflavored gelatin, glycerin and a little water. (We suggested using flavored gelatin in the future to make the wounds a little tastier but that was shot down for some reason.)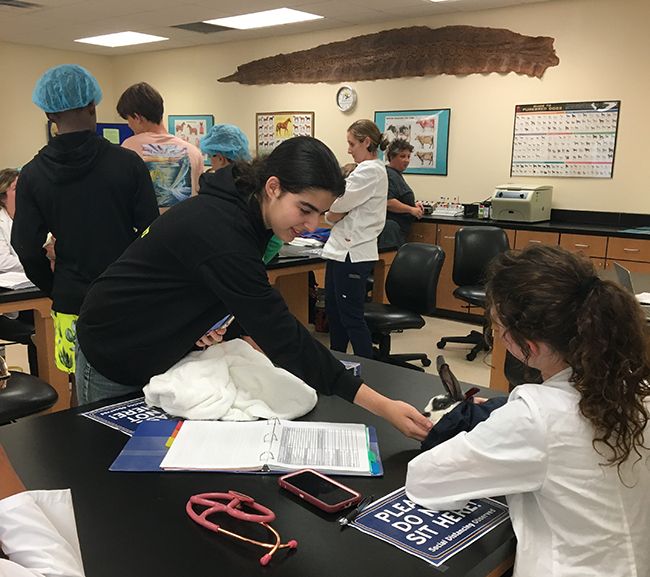 "The students really enjoyed that,'' said Denise Taylor, practical nursing program director. "They really loved making artificial wounds. They also learned about disaster planning and things like that. And I had my students work with them, so it was a great experience for them as well."
Don Lee, director of EMS programs at PSC, said he knows the teens enjoyed the visit to his department "because I have the coolest toys."
He said the students worked on human airway head mannequins and even "wound up doing some complex airway procedures we weren't planning on. But they're like little sponges – the soak up so much and took to it so quickly."
Sowell said one student did get woozy during phlebotomy where they learned to draw blood – again, on medical mannequins. But she said he wasn't feeling well anyway that day.
"In all, really well,'' she said. "They're very curious and they wanted to touch things and do hands on things. We tried to give them plenty of opportunities. And they loved Vet Tech. They had live rabbits they were able to handle and seemed to really enjoy that."
There is a plan to bring back Teens College in 2022, said Deven Walther-Thead, coordinator of PSC Continuing Education, which puts on Kids College and Teens College.
She hopes other PSC departments will be willing to offer summer camps for kids and teens as well.
"We'd love to be able to offer several weeks' worth of camps in various subjects through PSC", said Walther-Thead.