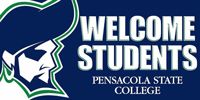 Published: 08-16-2018
Registration continues for Pensacola State College Fall Semester. Fall Sessions A & B begin Monday, Aug. 20.
Students may register for Fall Sessions C & D online at www.pensacolastate.edu or visit any Pensacola State location.
Pensacola State's Admissions, Advising, Cashier, Financial Aid, and Student Support Services offices are open 7:30 a.m. to 6 p.m. Monday–Thursday the week of Aug. 13-16 and Aug. 20-23. The College resumes normal hours of 7:30 a.m. to 4 p.m. on Friday, Aug. 24.
Fall Semester options include:
Session A: Aug. 20 – Dec.14
Session B: Aug. 20 ­– Oct. 15
Session C: Sept. 11 – Dec.14
Session D: Oct. 16 –  Dec. 14   
Late registration and drop/add assistance for Sessions A and B run through Friday, Aug. 24.
For more information, call the PSC Admissions and Information Center at 850-484-2544.