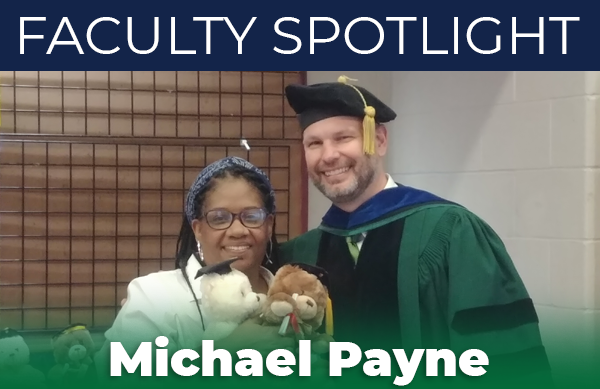 By Troy Moon
Pensacola State College
Pensacola State College business instructor Michael Payne's Strategic Management capstone course is pretty much fun and games.
The fun comes from being successful in an endeavor that will bring students a step closer to earning a Dr. Marjan Mazza Bachelor of Applied Science degree in Business and Management.
The game is just that – "The Business Strategy Game,'' an online exercise where classmates are divided into teams and must run an athletic footwear company in head-to-head competitions against other class teams and teams from across the country and world.
During the week of April 4-10, one of the PSC teams, "Clover,'' tied for first among 5,182 teams worldwide. Teams are usually made up of four students, though there could be more or fewer students per team. PSC fielded eight teams during the spring semester. Competing teams came from schools ranging from the University of West Florida to the universities of Alabama and Georgia.
"At Pensacola State College, we know the SEC doesn't stand for the Southeastern Conference,'' said Payne, an assistant professor who has taught at the College since January 2018. "It is the Securities and Exchange Commission."
"You take all aspects of production, marketing, finances, a balance sheet – you name it,'' Payne said. "The game pulls them together in a way that students make strategic decisions and make them applicable which lines up with our mission. Our degree program is not generally theory-based like a straight Bachelor of Science degree. Ours is a Bachelor of Applied Science degree. That's definitely what we do. I want you to open a food truck. I want you to open a store downtown. I want you to use all that you've learned and be successful in the real world."
"The Business Strategy Game" is simulated for the duration of 10 fiscal years. It is traditionally run as a 16-week class.
"We take that traditionally 16-week class and compress it into eight weeks,'' Payne explained. "In the 16-week format, each week you have one set of overriding decisions and you're playing the game for one fiscal year. Using an eight-week format, you have two fiscal years (each week). That makes our performance even more impressive. Normally, outliers come back to the center.  We didn't just have that top performance for one fiscal year, it was for two fiscal years within a one-week class timeframe."
Payne said all PSC teams performed above the worldwide game average.
"It's not just this term, it's every term,'' he said. "We consistently beat the national average."
Payne said the diverse makeup of PSC's student body contributes to the success.
"Our students come in with eclectic and diverse backgrounds,'' he said. "They have life skills and life experiences that give them a distinct national advantage in any simulation that compares to real life."
Payne's own life experience is diverse. He served 25 years in the military, first in the U.S. Coast Guard, then the U.S. Navy, serving first in the enlisted ranks before receiving a commission. He retired as a Navy lieutenant commander in 2015. The rank of lieutenant commander is the equivalent of the rank of major in the other service branches.
"I have the movie ("Major Payne") memorized,'' Payne said. "Everyone quotes it to me."
His military jobs include working as a nuclear electrician and, later, medically evacuating soldiers from various countries, including Afghanistan.
Payne has a Doctor of Philosophy – Business Administration and Management from Northcentral University. He earned his Master of Business Administration and Management from Regis University. He earned a Bachelor of Science in Business from Charter Oak State College.
He has previously taught at the University of Maryland Global Campus, the University of West Florida, Ohio University Online and Embry-Riddle Aeronautical University.
"I truly enjoy teaching,'' Payne said. "Here at PSC, it's amazing what our students do. "Every class does extremely well and just excel when you compared them to students across the country and across the world."