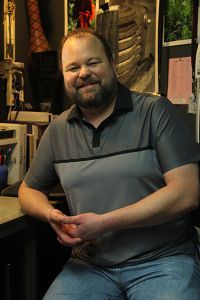 Published: 05-08-2018
Despite what "they" may say about Broadway, there isn't always magic in the air.
Christopher White had a career in the entertainment industry for more than a decade, working on Broadway as an audio engineer and travelling on national and international tours. He had put his bachelor's degree earned in production and lighting design from the University of Florida in 1996 to good use. It would have seemed he had achieved career success.
But that wasn't the case, admitted White.
"The magic kind of went away for me. It wasn't the passion of doing it anymore, it was just making a paycheck," he said.
Dissatisfied with his work-life balance, White began to experiment with photography as an outlet. He set out to explore the national parks through his lens, teaching himself how to use digital photography along the way. Eventually, he moved to Pensacola to be near his parents and decided to look for a job.
In 2009, while on his way to a job interview, White spotted the Anna Lamar Switzer Center for Visual Arts.
"I came inside and talked to Krist (Lien) and he convinced me to start taking some classes," he remembered.
In 2011, White earned associate degrees from Pensacola State in photographic technology and graphic design.
"I'm very proficient as a commercial studio photographer, with my background in lighting design and multiple years working on scenes and sets and things of that nature. I gravitated toward that first and from there it branched out into conceptual fine art photography in the studio," White said.
While a Pensacola State student, White was hired as the photography and studio lab manager. He helped to ease some of the burden on the instructors during a time when enrollment was on the rise. White's temporary gig became a full-time staff position two years ago.
"I'm affectionately called 'the fixer' in the department," White said, grinning. "I have a very broad skill set.  Be it mechanical, electronic … anything and everything that plugs in, turns on, has a flip or a switch on it, I can probably fix it."
He also has been pursuing his master's degree in photography at the Savannah College of Art and Design. He is in his last quarter and just closed his exit show, "Morphometric Tetralogy," on April 27 in Mobile.
"'Tetralogy' is a Greek term for four values of work that are cohesive as one, but they are four separate entities in themselves," White explained.
He started with the idea of creating a "soul-catcher," then combined concepts like Jungian theory of the collective unconscious, archetypes, mythology and religion to create a visual path through spirituality. His model resembles a statue thanks to the use of argil (clay) as a medium, which pays homage to the major world religions that all reference the birth of man from clay.
"It was really fascinating when I discovered that in the research," White said.
Alluding to a photo in his hand, he added, "The model in that instance is actually covered with five gallons of slate and fabric and other textures."
White ─ who describes himself as very organized and wanting to be in control ─ said his artwork is about relinquishing that control. Most of the images for his show were captured in a completely black studio, and he was unable to see what he had captured until it processed. The end result is profoundly moving. Before he allowed himself to lose control, though, White learned to control his choices.
White said he loves Pensacola State's photography program because it is still grounded in the fundamentals of analog photography.
"When students come in, they have to take a Photo I class where they learn to shoot a 35 mm manual camera, understand the aperture and shutter speed combinations to get a proper exposure and the basic components of composition," White said.
Students then have to process the film, make contact sheets, and print them in the darkroom.
"From start to finish, they are in control of the final product," he added.
White also praises his colleagues at the college and the art programs.
"As far as the Visual Arts Department, it is a very well-supported, well-funded, well-staffed department. It's a real gem and probably one of its kind in the entire state of Florida," said White who has been at Pensacola State for more than eight years.
He hopes to become an instructor once he obtains a master's degree. From there, he can picture himself at Pensacola State for years to come. More of White's work can be seen at www.cwhiteslight.com.