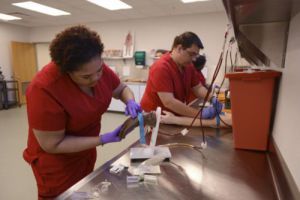 Published: 06-03-2020
Troy Moon, Pensacola State College
There is a program offered at Pensacola State College which will have you ready to work in a health care facility just two months after starting classes.
PSC's Phlebotomy Technician Program is an eight-week course that will earn a graduate a Vocational Certificate that will allow the student to collect blood. Graduates also learn basic anatomy and physiology, infection control and more.
It's just one of the Vocational Certificate programs offered by the PSC Allied Health Department that students can finish quickly, then move into the workforce.
"They're pretty popular programs,'' said Mitzie Sowell, Allied Health Department head. "You can learn a skill and get to work fairly quickly."
Other Vocational Certificates that can be earned quickly are:
Electrocardiograph Technician (one semester)
Medical coder/biller (37 credit hours)
Medical Assisting (One year, or 1,300 clock hours)
Sowell said while some of the certificate earners will just work in that field, others will build on the certificate to advance their health care professions.
"Some will do phlebotomy or EKG because they want to be employed while pursuing another field, like nursing,'' she said. "You can go to school and still work a good job as a phlebotomy technician or EKG technician."
Sowell said the quality of Allied Health's accredited programs, and its low cost make it a great opportunity for students in a health care position.
Tuition for a Vocational Certificate at PSC is $85.74 per credit hour, lower than PSC's college credit tuition – already one of the lowest in the nation – which is $104.58. (Figures are for Florida residents.)
Sowell said the relative shortness of the programs can be beneficial to students who are not sure of their educational future.
"Sometimes you get people in those programs who go in with no kind of background,'' she said. "This allows them to realize whether this is for them or not. They might not want to go down that road. They might want to go down a different road. But these programs help you build something and go from there. They can earn a Phlebotomy or EKG certificate and maybe go into the nursing program or something else, and work while they're going to school."
Marla Magaha, Medical Assisting program director, said many of her students pursue other health care educational opportunities after earning a Vocational Certificate.
"A lot of my students come in knowing they intend to further their education,'' Magaha said. "And with the certificate, they can work in a health care profession while still continuing their education. Some go into nursing; some go into physical therapy. But this is a great introduction for them and will them find employment."
She said students looking for a health care profession should seriously consider PSC, and not just because of the low tuition cost.
"We graduate quality students from an accredited program,'' she said. "Our medical assisting students are trained in the front end and learn to take insurance, make appointments and how to refer (patients) to another doctor. But they also learn the back end and learn how to assist physicians, give medications and take care of patients."
For more information about PSC Allied Health fields, go to https://www.pensacolastate.edu/departments/allied-health/ or call (850) 484-2301.
PHOTO: PSC's Phlebotomy Technician Program is an eight-week course that will earn a graduate a Vocational Certificate that will allow the student to collect blood.
Allied Health offers quick educational opportunities in 8 weeks to 1 year. Register now for Fall. For more information, call 850-484-2000, email us at AskUs@pensacolastate.edu, or Live Chat at PensacolaState.edu. #GoHereGetThere

Posted by Pensacola State College on Wednesday, June 3, 2020