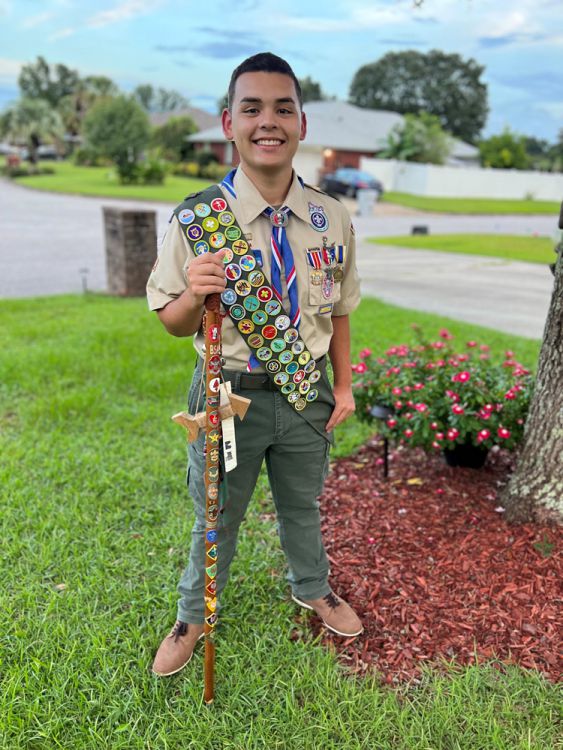 Nicolas Salazar just graduated from Pace High School a few months back, but he's already made Northwest Florida a better place.
Salazar, an incoming Pensacola State College freshman, was named by WEAR-TV Channel 3 as a community "Angel in Our Midst" in November 2021 for his work to help needy animals in the community.
In fall 2019, Salazar launched a service project called "Happy Paws-giving" to collect food, toys and treats for dogs and cats sheltered at Santa Rosa County Animal Services. That year, with help from bandmates in the Pace High Marching Band, Salazar collected more than a ton of dog and cat food and treats, as well as dog bones, toys and items such as beds, blankets, leashes and collars. "Happy Paws-giving" also contributed items to the Pensacola Humane Society after the first year.
Salazar, a Boy Scouts of America Eagle Scout, continued the "Happy Paws-giving" project in fall 2020 and 2021. Last year, the collection took in more than three tons of food.
Salazar doesn't think he'll be able to continue the collection this year.
"I think it would be hard with College and everything I'll have going on,'' he said. "I want to focus on school."
Salazar is one of the first students to sign up for PSC's inaugural esports team, which will start competition in October. He's also taking five classes to start his college career.
He plans on earning an associate degree at PSC before transferring to the University of Central Florida to study game design.
"I'm not nervous, but I'm excited to start something new,'' said Salazar, who earned his Eagle Scout rank when he was 14. Only 4 percent of Boy Scouts achieve Eagle Scout rank. "I have friends going to PSC and I think it's a great place to start college."
Salazar's Eagle Scout project ─ "Helping Heroes With Capes'' ─ collected gently-used clothes, books and toys for children and families assisted by the Navy-Marine Corps Relief Society.  The project was named Top Eagle Scout project in the BSA Pensacola Bay District.
His community service doesn't end here. He also collected 350 pairs of jeans for homeless teens in shelters in 2021. He also collected donations from the community last year to help animals in Louisiana affected by Hurricane Ida.
The teenager has received commendations from the Santa Rosa County Board of Commissioners and has been given the Good Citizen Award from the National Society of the American Revolution. In 2020, he was named VFW Eagle Scout of the Year in Florida.
Salazar, whose family has two chihuahuas, said he feels compelled to help others and feels a special bond with animals.
"I want to help those in need and animals don't have a voice to speak,'' he said. "Some are abused and abandoned. I wanted to do something to help. I have the need to serve and I want to motivate the youth to do good things in life – for others, for themselves."