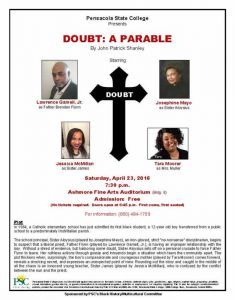 Published: 04-22-2016
Sexual abuse in the Catholic Church. The LGBT community. The plight of young African-American males.
These are the topics that will be addressed when "Doubt: A Parable" is staged at 7:30 p.m. Saturday, April 23, in Ashmore Auditorium, Building 8, on the Pensacola State College campus. The play is free and open to the public.
Sponsored by the PSC Black History/Multicultural Committee, the play's local cast includes Lawrence C. Gamell Jr., who will portray Father Flynn, along with Josephine Mayo as Sister Aloysius, Jessica McMillan as Sister James and Tara Moorer as Mrs. Muller.
Written by John Patrick Shanley and originally staged off-Broadway in November 2004, "Doubt: A Parable" is set in the fictional St. Nicholas Church School in fall 1964. It chronicles the contentious relationship between Father Flynn and Sister Aloysius over what may or may not be an inappropriate relationship the priest has had with a black male student.
Father Flynn is a popular and progressive teacher while Sister Aloysius is more conservative. The relationship between the two becomes even more strained when Sister Aloysius learns the priest held a private meeting with the black student – Mrs. Muller's son.
Gamell, an award-winning actor and director, said the play's topics are still very relevant.
"It's an important story to tell because it spotlights what was going on in the Catholic Church and involves a young African-American male.
"And despite race being an important issue – the emphasis is not on race, it's not the center of attention. The possible sexual abuse and the fact the child may be gay are current issues facing the LGBT community."
Gamell added he also believes it is one of the first times "Doubt" has been staged with an all African-American cast.
Mayo and McMillan both appeared in Gamell's short film, "God Is A Woman" in 2015. Moorer is an aspiring actress and former student of Gamell.
Highly successful, the original play closed in July 2006 after 525 performances and 25 previews. It also won the 2005 Pulitzer Prize for Drama and a Tony Award for Best Play.
In 2008, the play was transformed into an Academy Award-nominated movie starring Philip Seymour Hoffman as Father Flynn and Meryl Streep as Sister Aloysius.
Gamell, who admits the movie is one of his favorites, added the uncertainty surrounding Father Flynn also makes "Doubt" so compelling.
"The audience is not really sure anything inappropriate has taken place," he noted.
For more information, contact Sheila Nichols at (850) 484-1428 or snichols@pensacolastate.edu.
WANT TO GO?
What: "Doubt: A Parable"
When: 7:30 p.m. Saturday, April 23
Where: Ashmore Auditorium, Building 8, Pensacola State College campus.
Admission: Free