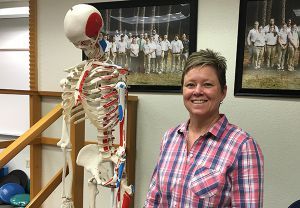 Published: 10-24-2019
By Troy Moon, Pensacola State College
Mitzie Sowell wasn't allowed to eat carrots growing up on a large sweet potato farm in rural Louisiana.
Her father was known as "Mr. Yam," and was adamant that you could substitute sweet potatoes in any dish calling for carrots.
"We'd eat sweet potato cake instead of carrot cake," said Sowell, the recently-appointed department head of Pensacola State College's Allied Health Department on the Warrington campus. "We didn't eat white potatoes either. That was our competition."
It was on that sweet potato farm that Sowell first became interested in biology. Her father worked with agriculturalists at Louisiana State University to develop higher grade sweet potatoes. That's when she began learning about hybrids and genetics.
And she kept on learning, earning three different master's degrees (Health and Physical Education; Secondary educational biology; exercise physiology) and a doctorate in biology education, the latter earned at Auburn University.
Sowell has used her own numerous academic achievements ("a lot of student debt," she said) to help educate others, even though that was the opposite of what she originally intended.
"It's funny because my undergraduate degree was in P.E. Non-Teaching," said Sowell, who started as an adjunct instructor at Pensacola State in 2003. "I was never going to teach – not ever."
But she soon found herself teaching patient education as a result of her studies.
"I was helping people learn to be healthier," she said. "I found I had a knack for dealing with people."
She taught biology in a middle school, calling it the "three longest years of my life."
But she soon landed an adjunct position at Pensacola State, and for the last few years has served as associate professor of natural sciences ─ teaching anatomy and physiology, microbiology and introduction to biology at the college's South Santa Rosa Center.
Even now, she still teaches on Monday and Wednesday mornings before making the long drive to the Warrington campus. (She lives just five minutes away from the South Santa Rosa Center. The drive doesn't bother her, she said. She drinks coffee and gets relaxed and mentally ready for the day on the drive in. And she listens to "two 'Forensic Files' "episodes on SiriusXM radio on the drive home.)
Sowell spent two years as president of the PSC Faculty Association, and believes that organization and leadership aided her make the transition from instructor to administration.
"That really helped me to understand contracts, and point-load systems and things foreign to most people," she said. "And my background as faculty association president helped me develop relationships."
Warrington campus Dean Dusti Sluder said Sowell has been a welcome addition.
"She's very easy to approach," Sluder said. "She's very down to earth. She listens to faculty and students. She's been great."
Sowell said she is grateful to take over a successful program that contributes so much to the students and industry of the community.
"There's a lot going over here in Warrington."