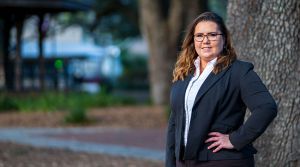 Published: 02-21-2020
By Mike Suchcicki, Pensacola State College
There's a wry smile on Marie Perry's face when, after relating some of the details of her amazing life, she says, with more than a little irony, "Yeah, I've got a hell of a story."
She's even writing a book about it.
Perry, 30, is a cybersecurity student at Pensacola State College, having received her Associate in Science degree in December. Currently she's in the Bachelor of Applied Science Program for Cybersecurity and hopes to start the Cyber Forensics Program in the fall.
Recently she was accepted into the cybersecurity internship program at Navy Federal Credit Union, the first PSC student to get the nod.
"It's always been University of West Florida students, so I definitely had to fight to get in there, but I left my mark for sure," she says.
But that achievement isn't the "hell of a story" Perry is talking about.
"I had a pretty tough childhood," says the Jacksonville native. "Like a really, really tough childhood. My parents separated when I was young, and my mother was awarded primary custody. I was removed from my mother and stepfather at the young age of 6 because of physical abuse and moved in with my grandparents, where everybody was extremely abusive – physically, sexually, emotionally, mentally. Then, at 16, I went into foster care for a while. Then my father got custody until basically I ran away at 19 years old. I lived off the streets for a year, then joined the carnival for three years after that."
She has no problem discussing the details of her traumatic upbringing, whether it's about the younger sister whom she protected until Perry was removed from the home at 16, or the half-brother who was sexually abusive to her when she was a child. He committed suicide about a year ago, Perry says.
"I'm very open about my past," she says. "I wasn't before, but part of my healing and my growth is being honest and talking about those things."
That honesty led to some important realizations about the environment in which she was raised and the family members who were supposed to have cared for her, Perry says.
"I had to understand that they all had an illness that just destroyed the person that they could have been," Perry says. "I had to come to the self-realization that anything that was happening to me was definitely not my fault, that what they did was totally on them. I didn't want to be that person who played a victim."
Perry is aware of the discrepancy of a 30-year-old, calm, composed, mature, meticulous planner and security-expert-in-the-making telling the tales of a vastly different teenage self.
"Trust me, the person that I am now compared to the person that I was at 16, it's a huge difference," she says. "At 16 I hated the world. I hated everybody. Life was unfair, so I was definitely that type of child at that age, very explosive, getting into fights a lot. Because at that point my whole world had fallen apart. Nobody believed what I was telling them."
She knew the vagabond life that she took up upon running away at 19 wasn't the answer.
The beginning of her turnaround, she says, was the birth of her daughter, Candice, now 4.
"She's my bestest friend," Perry says. She and Candice's father are divorced.
In Florida at the time, Perry says she had no training, no high school diploma, no experience.
"I ended up driving to Virginia because I had a place to stay there and ended up getting two jobs in three days and I just worked my butt off and was so thankful to be able to work and make money and try to start my life over again."
Shortly after Perry's daughter was born, a good friend took the new mom by the shoulders, shook her and told her that she deserved so much better than the life she was living. That wake-up call led her to register at Pensacola State, where she studied for her GED diploma. She could afford to take only one section at a time.
"I got my GED here over the course of a year," she says. "And when I did, I was like, 'Whoa, if I can do this, then maybe I can go to college.' I applied and got my acceptance letter. I think I still have a video on Facebook of when I got my letter, I was so excited. I applied for Pell, was approved and now here I am, doing my BAS."
Originally, she was going to study business management.
"I didn't know what I wanted to do. I was just told that business management was the way to go because you can get a job anywhere."
Then came the fateful day, about two weeks before classes began, that she stopped for a cup of coffee.
"These two guys in front of me were talking about cybersecurity," Perry says. "They had just come from a cybersecurity conference, and this one guy says, 'You know, we were trying to hire 1 million people in cybersecurity last year and they didn't even scratch the surface.' So, I got my coffee, sat down, hopped on my phone and looked up cybersecurity, and I'm seeing that, straight out of college, these jobs are offering 60, 70, 80 thousand dollars. After about five years you're looking at a six-figure job."
A little bit more research revealed that, lo and behold, PSC, the school to which she'd already been accepted, had a top-notch cybersecurity program.
"I already had the funding to go to school, so I came in, saw my adviser and asked, 'Is it too late to change my major?' and she said, 'Nope,' and it just took off from there."
Not that everything was smooth sailing once classes began.
"By my second week I pulled over on the side of the road and cried, because it was a lot. A lot of technical stuff that I was not ready for. Being on the spectrum of poverty, you don't really get to experience the newer electronics, so I had that separation where I was not up with technology at all. I was definitely struggling. It was HARD! Not to mention, my life and marriage were falling apart. Everything was crashing down at once. But my professors had my back and wanted to see me succeed and were always extremely helpful. So, after that semester it got easier."
Perry quickly picked up that the path to success in her chosen field required knowledge of more than what was in the books.
"I spent a lot of time researching and working, and I got lucky in that in my second week of college, someone told me that networking and socializing are extremely important for getting a job in cybersecurity," she says. "We are a military town, so military will get hired first before they hire students. I know students with four-year degrees in cybersecurity and they can't get a job because they don't have experience. You can have all the certifications you want, but they want clearances and the only ones who have clearances are military."
Perry wasn't in the military, but she was determined to get the work experience.
"I started getting to know the industry. I started going to networking events with IT Gulf Coast, for whom I interned for a year. I also did an internship with the Escambia County School Board administration. It wasn't specifically cybersecurity, but I got to experience the different areas of IT." She was then offered employment with TEKsystems, whom contracted her with Ascension Sacred Heart. Perry attends the annual ITENWired, hosted by IT Gulf Coast, and encourages students to do the same. "Every local IT professional and company is there. It's a great place to network, socialize and shop for opportunity."
At PSC, she was a work study student with the Pirate CARES program, which brings awareness to mental health at PSC and was a part of the TRIO Program.
Her networking efforts paid off, she said, with the Navy Federal Credit Union internship.
"Some of the people who work at Navy Federal already knew me, because I made an effort to get involved in the community and putting myself out there. I applied for the job just like everyone else, but when my name came up, the recruiter knew who I was even before giving me a call, because I made that presence here in Pensacola."
Her advice to others hoping to enter the field is simple: Do the work and then some.
"I definitely suggest to people to do their research when they come into this," she says. "And get started early if you're going to stay here in Pensacola. Cybersecurity isn't just technical, there are so many different paths you can take. Do the research and don't be afraid to ask the questions."
Perry says that with her new career and new job, her life has turned the corner. She has recently received the title of President of the WiCyS (Women in Cybersecurity) Florida Affiliate.
"I'm really really liking my job," she says. "You know when you have that good-heart feeling? That love for your job? That's what I feel every day. I walk into my building smiling every single day. But it's definitely been a journey."
As forthcoming as she is with her history, Perry still holds some details close. For instance, there are the details of her horrific abuse from her grandmother, stories from foster care, and now-fractured connection with the sister she once protected.
"We don't really have a relationship with each other," she says. "That's mostly because … well, I won't get too much into that."
The wry smile reappears.
"You'll just have to read my book."
PHOTO: Marie Perry. Photo by Kevin Javier