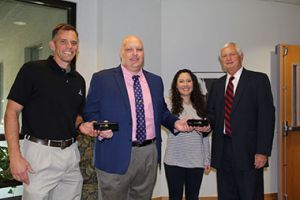 Published: 12-11-2018
Pensacola State College has student-athletes who come from all four corners of the globe. However, the College's president along with an administrator and a professor now own tie pins that come from the Land Down Under.
The stainless steel tie pins embellished with the College's logo were the brainchild of Dr. Brian Ward, a business professor, who wanted a unique accessory to show his PSC pride. After searching high and low for a manufacturer, Ward found Ties 'n' Cuffs, a Sydney, Australia-based company, on the internet.
"I placed the order, uploaded the official branded artwork from the Pensacola State College website and sent it to the company, and then I just waited," said Ward, who has worked at the College for three years.
"When the tie pin came in, I was so impressed with the craftsmanship I thought Dr. (Ed) Meadows and Dr. (Kirk) Bradley would also like to own one. I showed them my tie pin, and we talked about it. They both wanted one so I ordered two more – one for each one of them."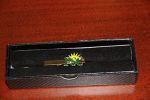 The unique tie pins are the only three of their kind on the planet, and Dr. Meadows is very impressed with the accessory.
"That was such a nice way for Dr. Ward to showcase his school pride. Most of us wear ties almost every day so it's a great way to spread the world about Pensacola State College," Dr. Meadows said.
"Around Pensacola, I receive compliments all of the time on the tie pin. And I hope when I travel people will notice, and ask about it. It will give me an opportunity to share all of the great things about Pensacola State College to people all over the United States, and the world if I travel internationally."