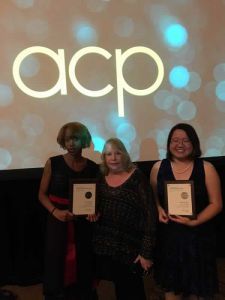 Published: 11-14-2016
Corsair staff members Katherine Chen and Izzie Gardner were among the best of the best at the Associated Collegiate Press (ACP) National College Media Convention held recently in Washington, D.C.
Gardner won a fifth place ACP National Pacemaker award for her Earth Day illustration which appeared in the Corsair's April 2016 edition.
Chen won a seventh place ACP National Pacemaker award for her untitled comic strip with a recurring original character that appears monthly in the Corsair.
Both Corsair staff members said they felt honored to be recognized for their artwork.
"Never in my entire life did I expect to win a national award. There were so many amazing illustrations at the competition," said Gardner, a graphic design major. "I was against students from all over including those enrolled in SCAD (Savannah College of Art and Design)."
Chen said she was thrilled to receive an invite to the conference.
"I was actually surprised when I got the invitation," said Chen, also a graphic design major. "When Dr. Ingram called me into her office – initially, I asked if it was bad news but she told me it was good news."
Corsair adviser Paula Ingram said her students faced stiff competition at the conference.
"We competed against universities like Yale, Columbia, Northwestern, so it was especially awesome to come away with some awards," she said. "I am so proud that we were able to be competitive against some of the best journalism schools in the country. That speaks volumes about what we do here at Pensacola State College."
Ingram said both artists are very talented with very different personalities.
"Katherine has a quirky sense of humor that is displayed in her comic strip. She's a terrific illustrator and multi-talented. And she's fast – a gifted artist," she added.
"Izzie is quieter, more thoughtful but gifted as well. We asked her to do an illustration for Earth Day and were all very pleased with the girl hugging the planet."
An illustrator much of her life, Gardner, 20, said she wanted her Earth Day work to be generic and simplistic.
"I didn't want the girl to look specifically like any one race, I felt making her appear multi-racial was important and I made her apparel earth tones as well," said Gardner, a Corsair staff member for about a year. "It took about two hours to complete the illustration. I finished the line art very quickly, but colorizing it took a little bit longer."
Chen said during the conference she had an opportunity to speak with and learn from other designers and illustrators.
"They really helped me to understand what to expect when I graduate from college," she added.
Chen, who has been drawing the untitled comic strip for three semesters, said she was the inspiration for the main character.
"She's very similar to me – I wear glasses, have black hair and I am Chinese," she said of the character. "I came up with the comic strip after joining the Corsair staff and try to find things in my personal experiences that other students can relate to – the weather, studying. I also try to make it comedic so other people can understand it."
The Associated Collegiate Press, a division of the National Scholastic Press Association, is a national community of collegiate journalism and media advisers and students. The convention is one of the largest gathering of college journalists and advisers in the world.
During the Oct. 20-23 convention, Democratic National Committee Chairwoman Donna Brazile, renowned Washington Post reporter Bob Woodward, and Jose Antonio Vargas, a Pulitzer Prize-winning journalist, filmmaker and media publisher, were among the featured speakers.