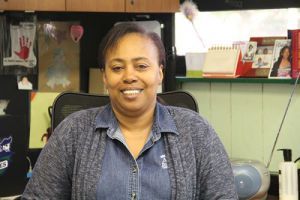 Published: 11-14-2017
During a difficult season in her life, Teresa Jackson was touched by the kindness and generosity of others.
Today, more than 25 years later, Jackson, an adjunct professor and administrative assistant at Pensacola State College, is still paying it forward.
Jackson collects, bags and provides individual emergency kits for victims of natural disasters. She started making the individual emergency kits following the 7.0 magnitude earthquake that decimated Haiti in 2010.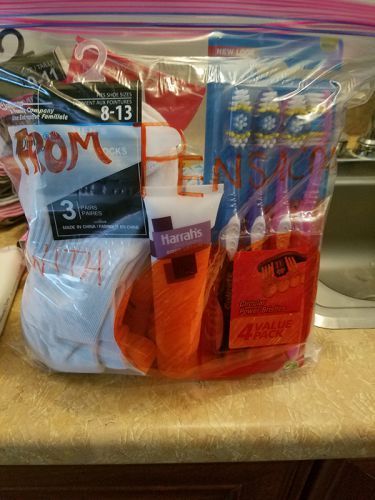 And Jackson continues today putting together kits filled with toiletries, socks, underwear, combs, brushes, diapers and other personal items for victims of Hurricanes Maria, Irma and Harvey. The supplies – hotel-sized soaps, shampoos, toothbrushes, toothpaste and more – for the kits come from donations.
"I sent a batch of emergency kits to South Florida to victims of Hurricane Maria on Oct. 1," said Jackson, who was inspired to help others after her son, Ronald, suffered through a bout of viral meningitis at age 7.
Ronald is now 34 and Jackson says had it not been for the help she received from various groups during that time, she wouldn't have made it.
"I was a single mother, I didn't have insurance, I was working part-time. Different groups paid my rent, my utilities, provided food for us," she remembered. "I was inspired to give back because of that situation. There is nothing I could ever do that will be equal what was done for me and my family during that period in our life."
Even before she started making individual emergency kits, Jackson was giving back to her community.
"For more than 10 years, my two daughters ─ Karen and Krystal ─ would hold car washes, food sales, work at carnivals, hold cute baby contests to raise funds to donate to local charities," Jackson said. "My daughters, who are now 32 and 34, were little girls when we were doing all of this but they didn't mind and were glad to help out."
The list of charities that Jackson has contributed to is long. They include the Ronald McDonald House, United Way of Escambia County, Salvation Army, American Red Cross, American Heart Association, Boys and Girls Club, Big Brothers and Big Sisters and even Pensacola Junior College and other agencies.
Those who know Jackson say she is a proponent for those in need.
"Ms. Jackson has always been a champion for those that could not always advocate for themselves. She constantly demonstrates her personal conviction of community action and self-development through her involvement in philanthropic organizations in the greater Escambia County," said Michael Johnston, Pensacola State's director of institutional research.
"She has a wonderful sense of humor and a debonair personality that makes others feel at ease while in her presence. I have seen this very often with students that come to the math department for help and guidance."
During her free time, Jackson serves as a mentor and role model for area youth. She heads the Pensacola chapter of the Omega Lamplighters – a group of 40 high schoolers – who are provided tutoring, ACT prep and college prep classes nearly every Sunday in Pensacola State's own Chadbourne Library.
"Pensacola State is so gracious to allow us to use the library for the Omega Lamplighters. Dr. (Ed) Meadows and the entire college family realizes how important it is," Jackson said. "In many cases, we are the difference makers in these young men's lives. Sometimes many of them only need more assistance in a (high school) class, and we provide that. Sometimes, they need help with preparing for the ACT but can't afford to attend a workshop, we provide that. We do what we can to make a difference in these young men's lives."
The program's results speak volumes. In May 2017, 12 Omega Lamplighters graduated from area high schools. Of that number, 11 are enrolled in college or university (two are at Pensacola State) and one joined the U.S. military.
"We give these young men options. For some, college may not have been a possibility but we try to make it a reality by making sure they are academically prepared for the coursework," Jackson said. "And twice a year, we take a group of Omega Lamplighters to Florida State ─ so they can see firsthand what a university campus is like and imagine themselves there."
Jackson's unselfish nature is very apparent.
"I have been witness to the selfless number of hours she has spent working with philanthropic organizations in Escambia County – she really is a paradigm of virtue and generosity," said Johnston who also has worked with the Omega Lamplighters.
He reiterated the program's success.
"As the educational director for the Omega Lamplighters of Pensacola, Ms. Jackson has established a weekend program where these young men attend on-campus tutoring session in subjects like Math, Chemistry and English. She also provides opportunities for them to take practice ACT exams where she has seen substantial improvement in scores – allowing many of them to achieve scholarships and awards from colleges and universities," he said.
Jackson's philanthropic nature has become her family's creed. Her daughters still are actively involved in many local efforts as well as some of her five grandchildren.
"I wouldn't be able to do anything without the help of others – some are relatives, some are friends, some are strangers. Many times, people who are traveling, will bring me hotel toiletries and items for my emergency kits," she explained. "I so appreciate those donations because as long as there is a need somewhere, I plan to help out."