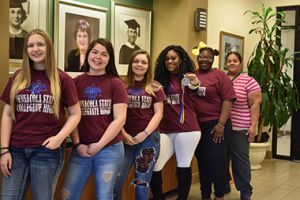 Published: 03-12-2019
Four Collegiate High Future Business Leaders of America chapter members placed at the 2019 FBLA District 1 Conference held in January in Pensacola.
Collegiate High students – Alysa Bounsana and Amber Holman ─ were named Outstanding FBLA members, and Mackenzie Soulet was named Outstanding FBLA Senior at the conference.
Soulet and Bounsana placed second in the Hospitality Management Team Event.
Soulet also placed third in the Job Interview competition, and Bounsana took third place in the Personal Finance event.
Holman, the FBLA District 1 Community Service Officer, placed second in the Organizational Leadership competition and was included in the FBLA District 1 Who's Who listing.
Briana Blount placed second in the Client Services competition. Felicity Miller and Keytana Smith also competed at the conference.
Evelyn Gant, FBLA advisor, said she was proud of Collegiate High's showing.
"They did an amazing job representing PSC and Collegiate High School," she said. "These young ladies worked really hard. They are a small committed group but they are dedicated and still pulling through."
Blount, Bounsana, Holman and Soulet will advance to the state FBLA Conference set for March 22-25 in Orlando.
"We're raising funds now for that trip, and accepting donations to help offset the expenses," Gant added.
The competitions boosted the confidence of the Collegiate High students who say they are ready for the state conference.
Soulet said she prepared for the FBLA conference by studying and found the competition challenging but fun.
"I tried my best and I'm glad my preparation paid off," said the 18-year-old who plans to enroll in Pensacola State after graduation in May.
"I really practiced and rehearsed at home," said Blount, who was battling a cold and laryngitis during the conference. "During the competition, I put my best effort forward. I was surprised I placed but very happy."
Blount, 18, wants to attend Pensacola State after graduation and then move on to the University of South Alabama.
Bounsana said she was proud to place at the regional level.
"Being a member of FBLA has really changed me. As an FBLA member, I've learned I can be outspoken but now I do it in a more professional and positive manner," she said.
The 18-year-old senior plans to attend Pensacola State after graduation and later a university.
"I want to earn my doctorate one day," she said.
Holman, a Pensacola State freshman, didn't expect to perform so well in the district competition.
"I wasn't experienced at all in the competitive arena but it was a nice surprise to place. I'm really looking forward to the state conference," she added.