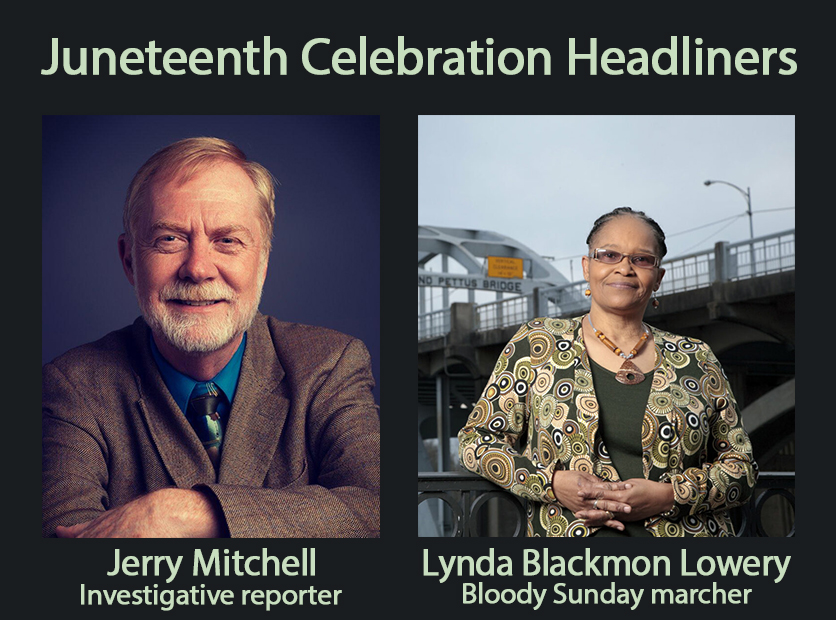 Two civil rights pioneers ─ Lynda Blackmon Lowery, a Bloody Sunday marcher, and Jerry Mitchell, an investigative reporter ─ will headline Pensacola State College's Juneteenth celebration this year.
Set for 10 a.m.-7 p.m. Saturday, June 18, on the Pensacola campus, the event commemorating the emancipation of enslaved black Americans in Texas also will include music, storytelling, poetry, folk dances, food and more.
"This is our second year to hold a Juneteenth celebration at the College. Last year's event started off with severe storms, but the day turned out to be beautiful with a great turnout from the College and Pensacola communities," said Tonie Anderson-Steele, a PSC professor and event organizer.
"We started planning this year's event in January, and there will be something for everyone – the young and the young-at-heart – at Saturday's event. The celebration in 1865 was a grand event and so it will be in 2022. We're asking everyone to come celebrate with us. There are so many people on the program that will be inspiring from a.m. to p.m."
During an 11:30 a.m. ZOOM presentation, Lowery will share her extraordinary story of the 1965 Bloody Sunday March in Selma, Alabama, in the College's Delaino Student Center, Building 5. The link is pensacolastate.zoom.us/j/97949615979.
The author of "Turning 15 On the Road to Freedom," Lowery was born in 1950 and by age 15, she had been jailed nine times as a civil rights activist.
Throughout her life, Lowery, now 72, has described how she overcame intense fear after being attacked during the March 7, 1965, protest now more commonly known as Bloody Sunday. Her path to healing came from the five-day, 54-mile march from Selma to Montgomery. She was one of only 300 people allowed to make the entire journey.
"We were determined to do something, and we did it. If you are determined, you can overcome your fears, and then you can change the world," Lowery said during another speaking engagement.
At 3 p.m., Mitchell, a Pulitzer Prize finalist and MacArthur Foundation "Genius Grant" recipient, will speak in the College's Hagler Auditorium, Building 2. A former Clarion-Ledger newspaper reporter, Mitchell's stories have helped put four Ku Klux Klan members (including Byron De La Beckwith ─ the former imperial wizard of Mississippi's KKK group and the assassin of NAACP leader Medgar Evers) and a suspected serial killer behind bars decades after they committed crimes.
Mitchell's 2020 book, "Race Against Time: A Reporter Reopens the Unsolved Murder Cases of the Civil Rights Era," chronicles his work on some of the nation's most infamous killings. His reporting also has exposed corruption in state agencies and helped lead to the release of two prisoners from death row. For his work, Mitchell has received more than 30 national awards, including the prestigious George Polk Award twice.
In 2009, the MacArthur Foundation named Mitchell a MacArthur fellow for his work ─ becoming only the second investigative reporter to ever receive the $500,000 award.
Mitchell is currently the director of the Mississippi Center for Investigative Reporting. Formed in 2018, the nonprofit news organization seeks to empower citizens in their communities by informing and educating the public.
Also, on the program for this year's celebration are Lepoleon Williams and his drummers, Polimatree; the Montclair Panthers African Dance Troupe with Camelia Willis; Troy Watts with "Dribbles the All-Knowing Cat;" as well as Brian Wyer, president and chief executive officer of the Gulf Coast Minority Chamber of Commerce.
Juneteenth was designated a federal holiday in 2021, when President Joe Biden signed the Juneteenth National Independence Day Act into law.
Juneteenth's commemoration is on the anniversary date of the June 19, 1865, announcement of General Order No. 3 by Union Army Gen. Gordon Granger, proclaiming freedom for enslaved people in Texas, which was the last state of the Confederacy with institutional slavery.
The Pensacola State celebration is being sponsored by the College's Black History/Multicultural Committee, the African American Student Association and the African American Heritage Society.