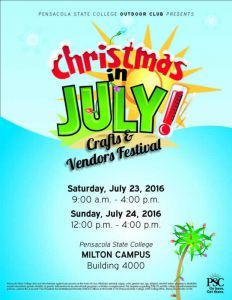 Published: 06-21-2016
Make some hot chocolate and put another log on the fire. It's time for the Christmas in July Festival at Pensacola State College's Milton campus, 5988 Highway 90.
Come browse through an array of Christmas crafts, baked goods and more than 70 vendors in Building 4000 from 9 a.m. to 4 p.m., Saturday, July 23, and from noon to 4 p.m., Sunday, July 24.
Get an early start on your Christmas shopping with items like seasonal décor, wooden toys, a variety of jewelry including pearls, and plenty of delicious goodies to stock up the freezer for winter entertaining. Or, enjoy a tasty snack from the Belly Busters food truck that will be on hand both days.
Some outdoor vendor spots are still available and cost $40 each. Interested vendors can get more information by emailing outdoorclubvendor@yahoo.com.
Sponsored by the PSC Outdoor Club, proceeds go to scholarships and student leadership training.
For Christmas Festival information, call Debra Bigelow-Jordan, PSC Milton Campus, at 850-484-4420.