Published: 10-20-2022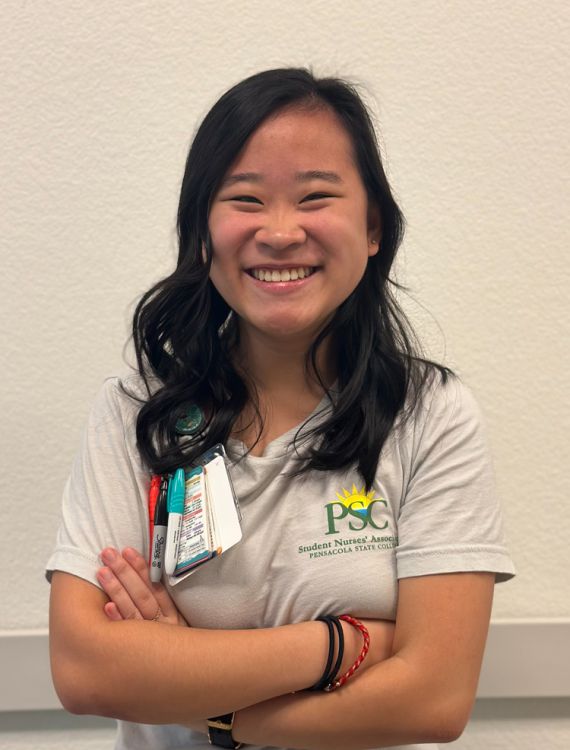 Christina Hamburg just turned 19 in July, but she's already earned an Associate in Arts – Psychology degree from Pensacola State College and will soon finish her Associate of Science RN degree.
Still, she doesn't officially complete high school until December, even though she completed most of her high school courses by the time she was 13 years old. Or was it earlier?
"I got all my credits finished by the time I was 12 or 13,'' Hamburg said of her high school requirements. "But I'm still technically a dual enrollment high school."
Hamburg was homeschooled from the fifth-grade on ─ taught largely by her father John Hamburg ─ supported by mother Shelley Hamburg.
She is the youngest of the couple's three children – all daughters. All three daughters attended PSC. The oldest, Katarina Hamburg, is a Florida Assistant State Attorney and middle sister, Stephanie Hamburg, has a Bachelor of Science degree in Animal Sciences and currently works at a local clinic.
"We all went the PSC route,'' Hamburg said. "It made sense for us. It's great to go to a university, but this was less expensive and it's close to home. We were all young, so it didn't make sense to go off to a university."
But not only is Hamburg an academic standout, she's also committed to bettering her community.
She won three PSC President's Volunteer Service Awards ─ 2018, 2019 and 2020. The awards are given to students who volunteer over 100 service hours during a 12-month period.
"It's been a lot of work,'' Hamburg said of her academic journey. "I'm so happy with how it all turned out. I loved all of my teachers and they're all able to communicate with you on a personal level rather than just a professional level."
Her father said Hamburg excelled even through trying circumstances.
"Christina was able to stay focused on her PSC dual enrollment coursework throughout the COVID lockdown,'' John Hamburg said.  "We are very proud of Christina's discipline and determination to succeed in her academic studies."
Hamburg hopes to earn a Bachelor of Science degree in Nursing after finishing her Associate of Science degree and might even pursue medical school at some point.
"I want to be in health care somewhere,'' she said. "But my RN degree will always give me job security and having it as a foundational skill will be very helpful later on."
She knows she missed out on some social aspects by being homeschooled but has no regrets.
"Did I miss going to school and meeting other people?  Yes,'' she said.
"But if I had to do it over again, I would in a heartbeat. I really love what I do and owe it to my Dad. He really facilitated this because I was a kid through most of it and had no idea what was going on. But he would sit down with me and we would create a plan together. I was pretty involved and wasn't pressured at all."